Is Delta Munchies Legit?
Yes, Delta Munchies is absolutely legit! With an extensive background in the cannabis industry spanning over a decade, Delta Munchies is a brand that takes extreme pride in delivering products of exceptional purity, safety, and quality. They go the extra mile to ensure that every product they offer meets the highest standards.
When it comes to sourcing their cannabis extracts and ingredients, they leave no room for compromise. They prioritize the use of the safest and highest quality sources, ensuring that each ingredient is carefully selected to deliver the utmost customer satisfaction.
As with all reputable hemp-derived THC brands, Delta Munchies has all the Certificates of Analysis (COAs) and lab tests readily available giving you the transparency and peace of mind you deserve. I went through extensive sampling and testing all for your benefit - and mine as well :) Join me for my detailed Delta Munchies brand review
Looking for a Delta Munchies discount code?
For a limited time, use code: MUNCHIES to save 15% off all Delta Munchies products at EverydayDelta.com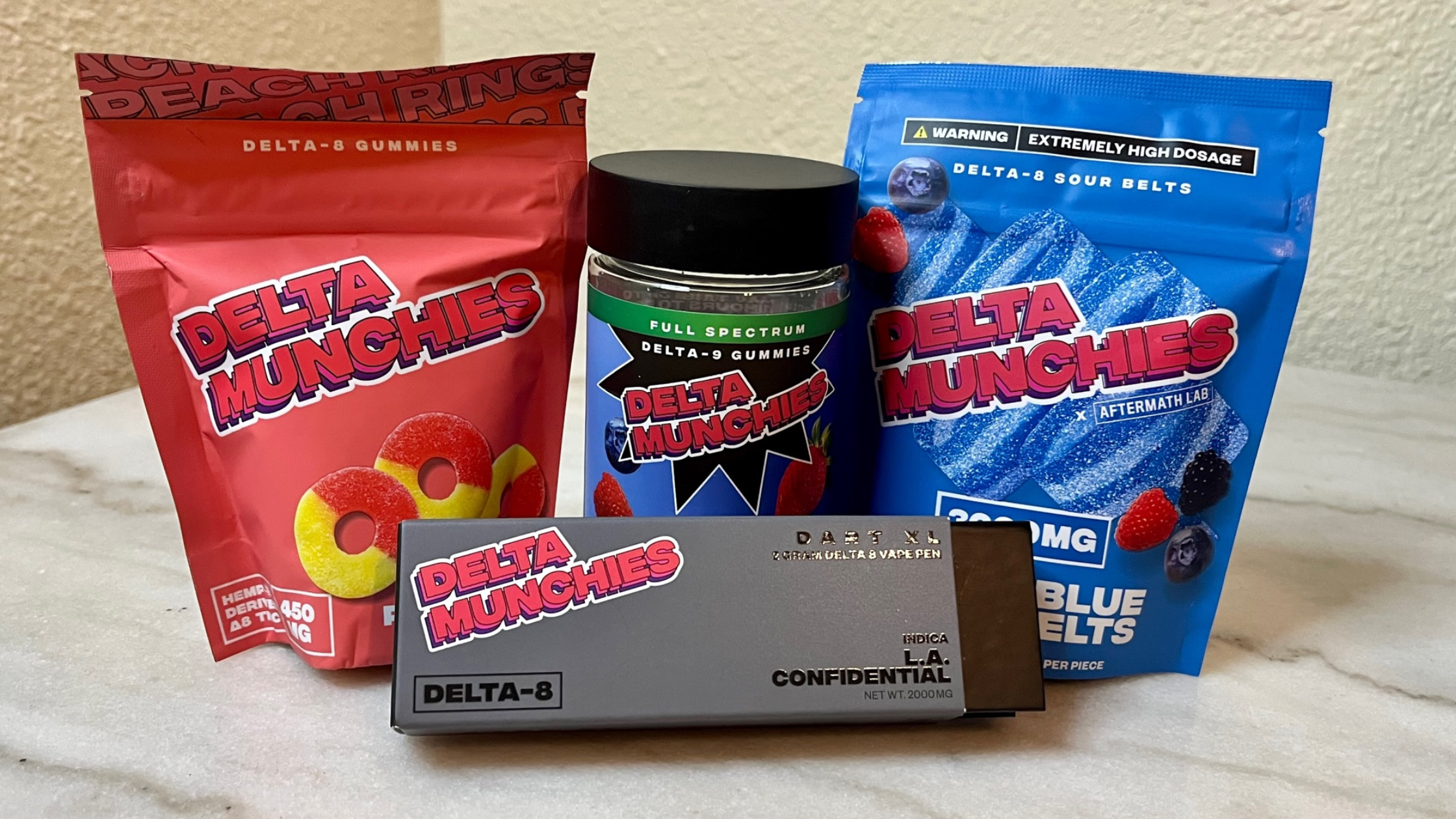 Delta Munchies Review Highlights
Like Everyday Delta, Delta Munchies is focused on making education for its customers of paramount importance. They recognize the value of providing cannabis education and resources to empower potential customers to make confident and informed purchasing decisions, a rarity among other brands in the industry.
When it comes to their products, they excel in both potency and presentation. Their well-crafted and attractively packaged offerings are a testament to their commitment to excellence. With a delightful array of flavors and a range of potency options, they cater to a wide variety of uses and preferences. What's more, their prices are affordable, ensuring that you can enjoy hemp-derived products without hurting your wallet.
---
The Pro's (+)
Amazing Flavors and Terpene Profiles
You can expect an extraordinary taste experience with their wide range of delicious flavors and carefully crafted terpene profiles. Each product is thoughtfully designed to tantalize your taste buds. From mouthwatering peach rings to refreshing peach gelato and exotic forbidden fruit, Delta Munchies delivers a delightful variety of flavors to suit everyone's preferences.
Wide Product Selection for all Preferences
They understand that preferences vary, so they offer a wide selection of products to cater to individual wants and needs. Whether you prefer gummies, pre-rolls, or disposable vapes, Delta Munchies has something for everyone.
Strength Options to Meet Your Needs
To ensure a personalized experience, Delta Munchies products come in multiple strength options. Whether you're seeking gentle relaxation or a more potent effect for those with a higher tolerance, you can find the ideal dosage to suit your wants and desired experience.
Purposeful Sourcing through Trusted Third-Parties
At Delta Munchies, they prioritize sourcing their oil from trusted third-party suppliers. By working with reputable partners, they ensure that their products meet the highest standards of potency and safety.
While the edibles Delta Munchies makes may require some patience to fully experience their effects, Delta Munchies' focus on Delta-8 and HHC products ensures a unique and enjoyable experience.
Premium Quality at Affordable Prices
Delta Munchies believes that exceptional quality should be accessible to all as do we. Their competitively priced products ensure that you can indulge in the finest snacking experiences without breaking the bank. Enjoy the premium quality and delectable flavor without compromising on affordability.
Safety and Purity Testing
Your safety is Delta Munchies' top priority. They take pride in their commitment to quality and safety, having all of their products rigorously lab tested. Most products are tested for contaminants to ensure purity and peace of mind. Additionally, Delta Munchies utilizes a DEA-certified lab for testing, further reinforcing their dedication to excellence.
---
The Con's (-)
Patience is a Virtue: Delayed Onset Edibles
When it comes to edibles, it's important to keep in mind that they may take a bit longer to take effect. Delta Munchies' edibles are no exception. Keep in mind that for some it may take around an hour or so for the full effects to kick in. So, be sure to plan your consumption accordingly and give yourself some time to fully savor the experience.
Delta-8, Delta-9, and HHC Product Focus
Delta Munchies specializes in offering a curated selection of delta-8 THC and HHC products. These unique and sought-after compounds provide a distinct and enjoyable experience for those seeking Delta 8 or HHC as an alternative to traditional Delta-9 THC. I am hopeful to see other cannabinoid offering from these guys in the future. I'd love to see a THC-P blend disposable at some point. 
Everyday Delta Staff Pick
Delta Munchies full spectrum Blue Dream Delta 9 gummies stood out to me the most and are my new go-to for a potent, hard-hitting Delta 9 edible. These come in at the perfect dose, helping me to relax and de-stress the moment these tasty edibles hit my mouth.
These D9 gummies are full spectrum and are packed with a blend of 10 other cannabinoids (CBN, CBG, CBD, CBC, CBCa, CBGa, CBDa, THCV, THCva, D8, and THCa to be exact). This produces effects that are far superior to many other standard Delta 9 gummies on the market. The entourage effect is more than noticeable and appreciated.
---
Delta Munchies Delta 8 Gummies Review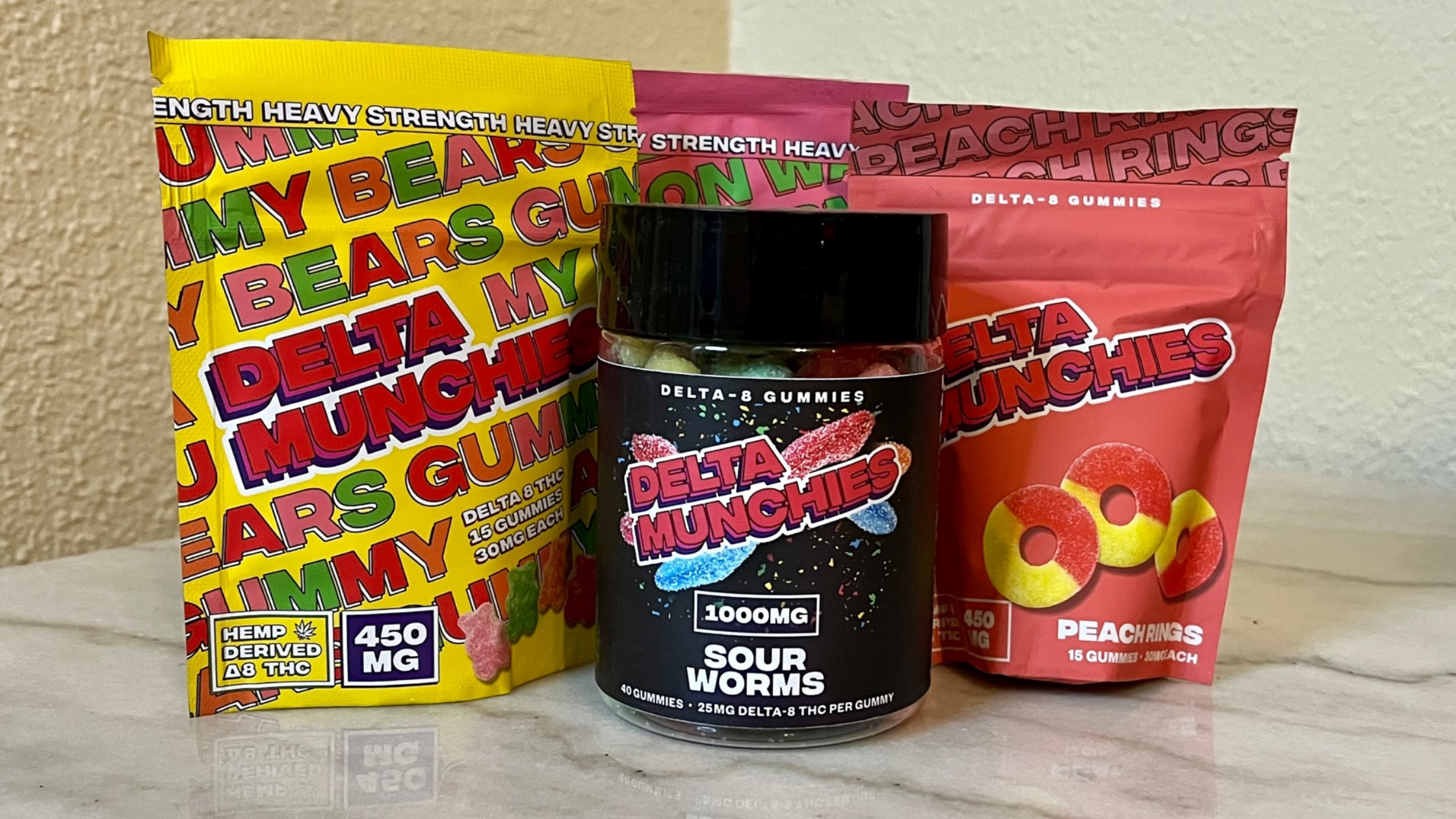 Delta 8 THC products have spiked in popularity in the hemp and cannabis market, and these gummies did not disappoint in delivering a pleasant and enjoyable experience.
First, let's talk flavor. The Grape Runtz flavor and Sour Gummy worms were absolutely delicious. The gummies had a fruity and tangy taste reminiscent of a tropical vacation. The flavor was well-balanced, and the sweetness was not overpowering. It was truly an outstanding experience
Lastly, since these are 25mg of Delta-8 per gummy I started with just one, the effects took around an hour to fully kick in but once they did I was on cloud nine. 
Highlights
Seriously, I'm pretty confident you'll love the Delta Munchies Delta 8 gummy bears, and Sour Worms as soon as you see them. The packaging is great and the ingredients used to make them are even better.
Each of the sour gummy worms had a consistent texture and taste, which is something I personally look for in edibles. The mouthfeel was pleasant, and the gummies did not leave any unpleasant aftertaste. In fact, these are so close to the classic sour worms I knew so well as a kid that I don't think I'd be able to tell the difference. They are that good!
In terms of potency, these Delta 8 Gummies delivered a smooth and mellow high. Delta 8 THC is a less psychoactive compound compared to Delta 9 THC, which means the effects were overall more subtle but still delivered a strong kick. I felt uplifted, motivated, and full of bliss without feeling overwhelmed or anxious. The experience was calming and enjoyable, making these Delta 8 gummies a great option for both experienced users and those new to Delta 8 products.
Effects Felt
Effects: Happy, motivated, blissful, comfortable

Good For: Promoting positivity, enhancing mood, pain relief
---
Delta Munchies Delta 8 Vape Review - Dart XL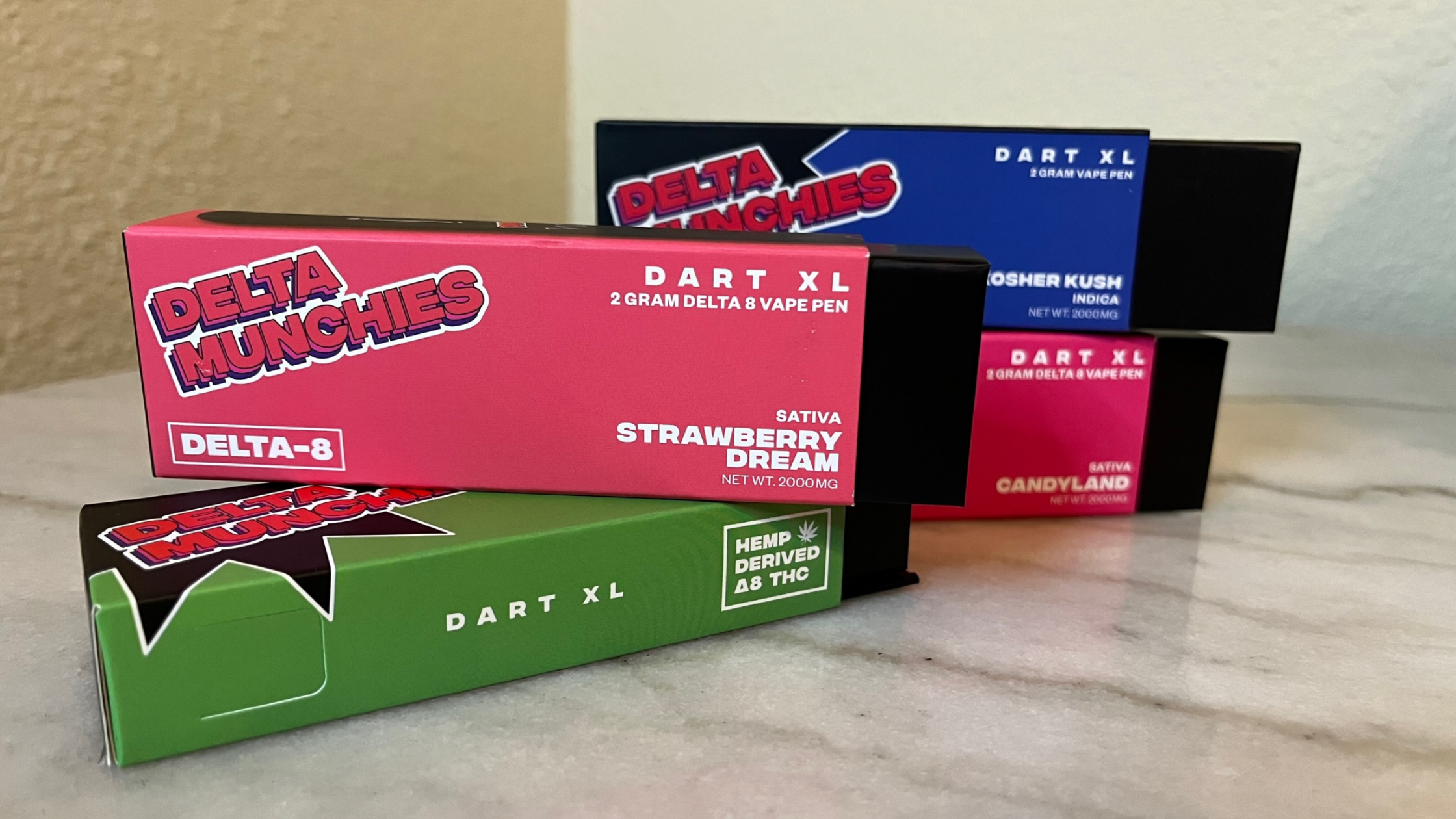 Delta Munchies Delta 8 Dart XL vapes are very well crafted with THC distillate, natural, and cannabis-derived terpenes. This blend of terps provides a balance between hemp flavor and sweet natural undertones.
Once again, the packaging on these Delta Munchies Dart XLs was designed to impress and impress it does. A large part of this comes down to the presentation. Each disposable vape slides nicely inside a black case covered by a cardboard sleeve. Once revealed the beautiful 2-gram vape is found resting nicely inside perfectly protected by a foam surround.
Luckily these 2-gram devices feature an easy to use charging port at their base making recharging a breeze. Remember, at 2 grams you'll need to recharge these at least once.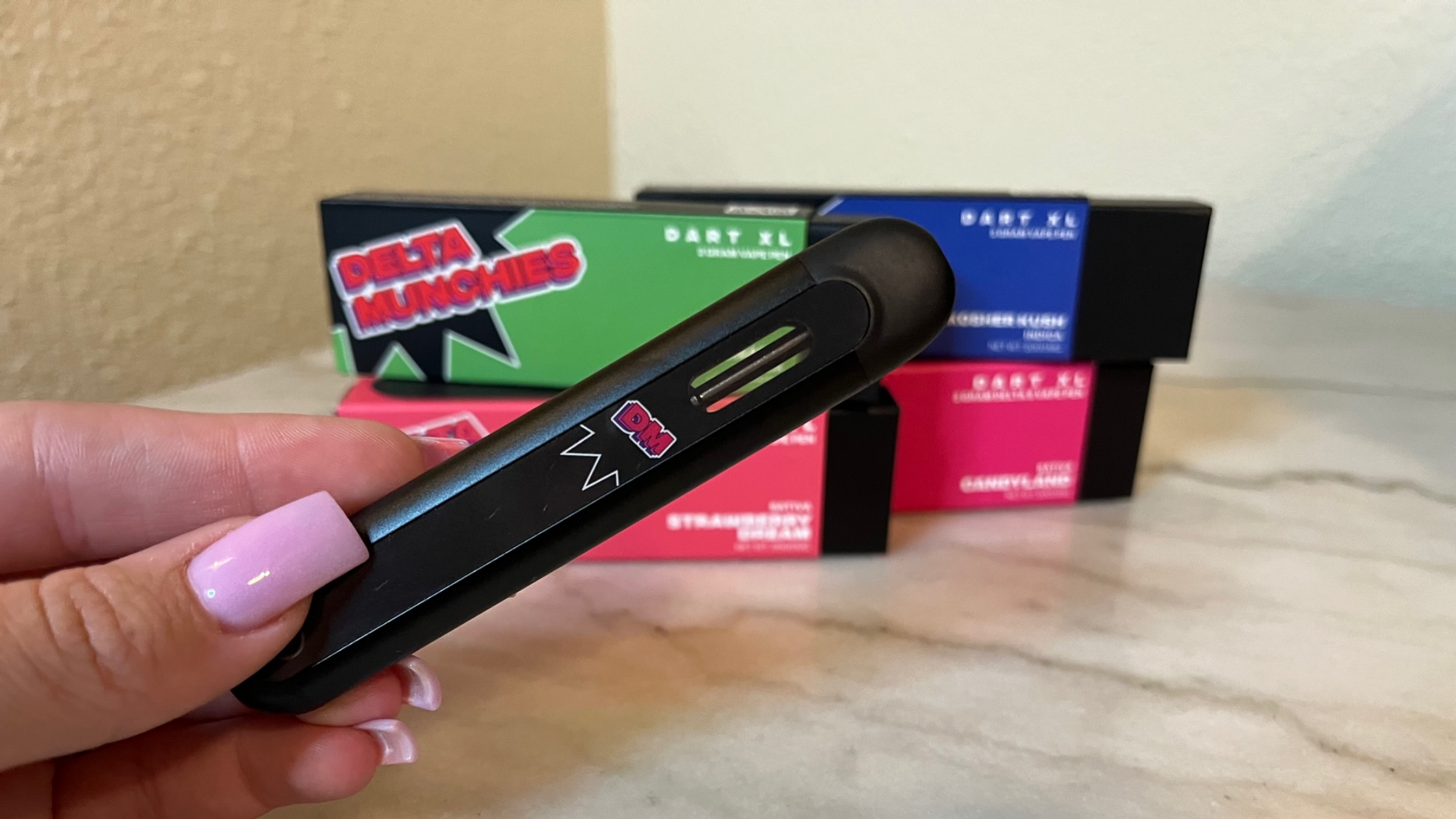 Highlights
I had a chance to try the following: Medellin, Candyland, Kosher Kush, and Strawberry Dream disposables. Each dart vape was spot on in representing it's intended strain, thanks to the terpene blend used. The flavor of each was as delightful as the flavor name sounds, for example, the Strawberry Dream and Kosher Kush flavor was busting with ripe strawberry and refreshing notes.
I do want to make a special note about how well these D8 vapes hit. I was welcomed by a thick cloud of smoke after each and every pull. While the Indica-dominant strains had me sucked into the couch at the end of the day, the Sativa Candyland strain left me feeling lifted and energized.
Effects Felt
Effects: Elated, peaceful, and Euphoric

Good For: Promoting feelings of happiness, mood boost
---
Delta Munchies Delta 9 THC Gummies Review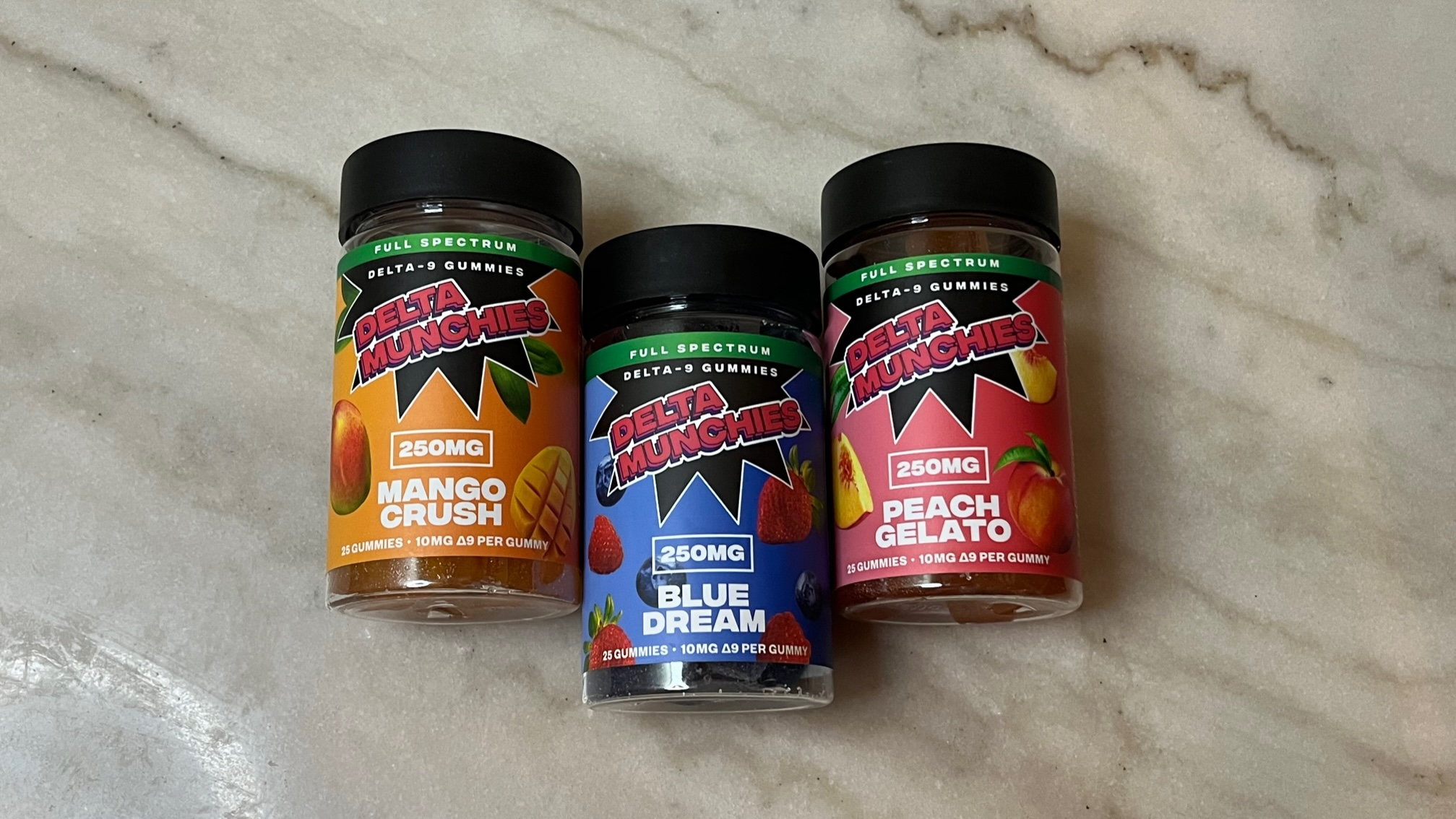 Powerful, meticulously crafted, and vegan friendly these Delta 9 Blue Dream gummies by Delta Munchies provide a superior high. The packaging is not only visually striking and designed around retaining freshness, but the potency of each gummy is also remarkably pronounced. It didn't take me long for me to decide that these gummies are my new favorite Delta 9 gummies.
These gummies are offered in a variety of flavors and strengths. You can opt for a mouthwatering Peach Gelato, a delicious Strawberry Shortcake, or the fruit-filled Mango Crush gummies. Regardless of your chosen flavor, you can pick from a sizing option of 25ct jars with 250 mgs per jar or a larger 40ct option with 400 mg per jar.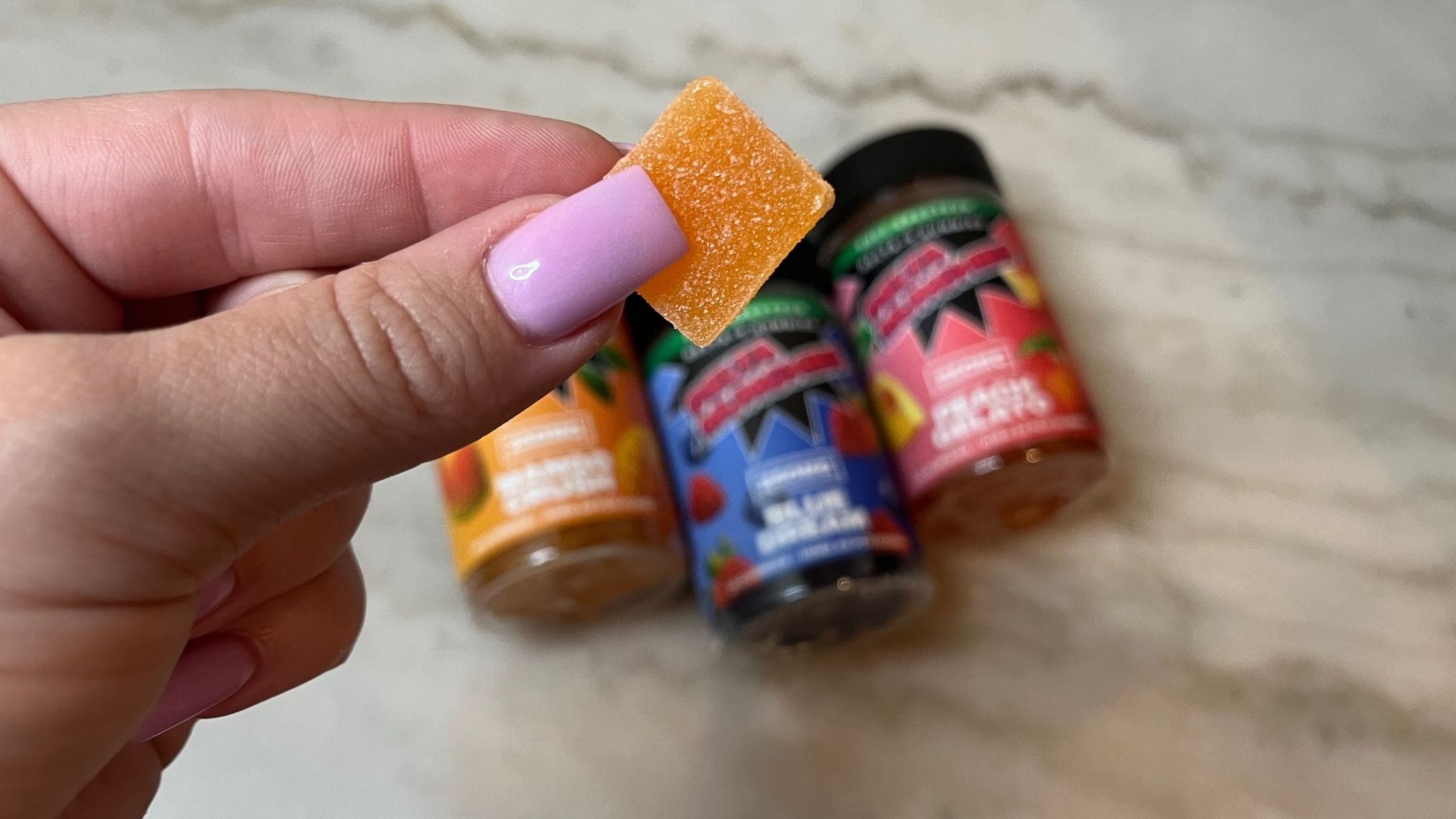 Highlights
These Delta 9 THC Blue Dream gummies from Delta Munchies are ideal for those who are looking for a convenient and tasty treat that will bring a sense of relaxation and ease. Delta Munchies D9 gummies are not only made with the highest purity hemp extracts but they are also eye-catching and come in functional packaging designed to keep your gummies fresh longer.
As long as you keep these gummies out of direct sunlight you should have no issues biting into a potent and fresh Delta 9 gummy each and every time. These are absolutely a new favorite of mine.
Effects Felt
Effects: Serene, peaceful, lively

Good For: Feelings of joy, promote an uplift in mood, and relaxation
---
Delta Munchies HHC Gummies and Vapes Review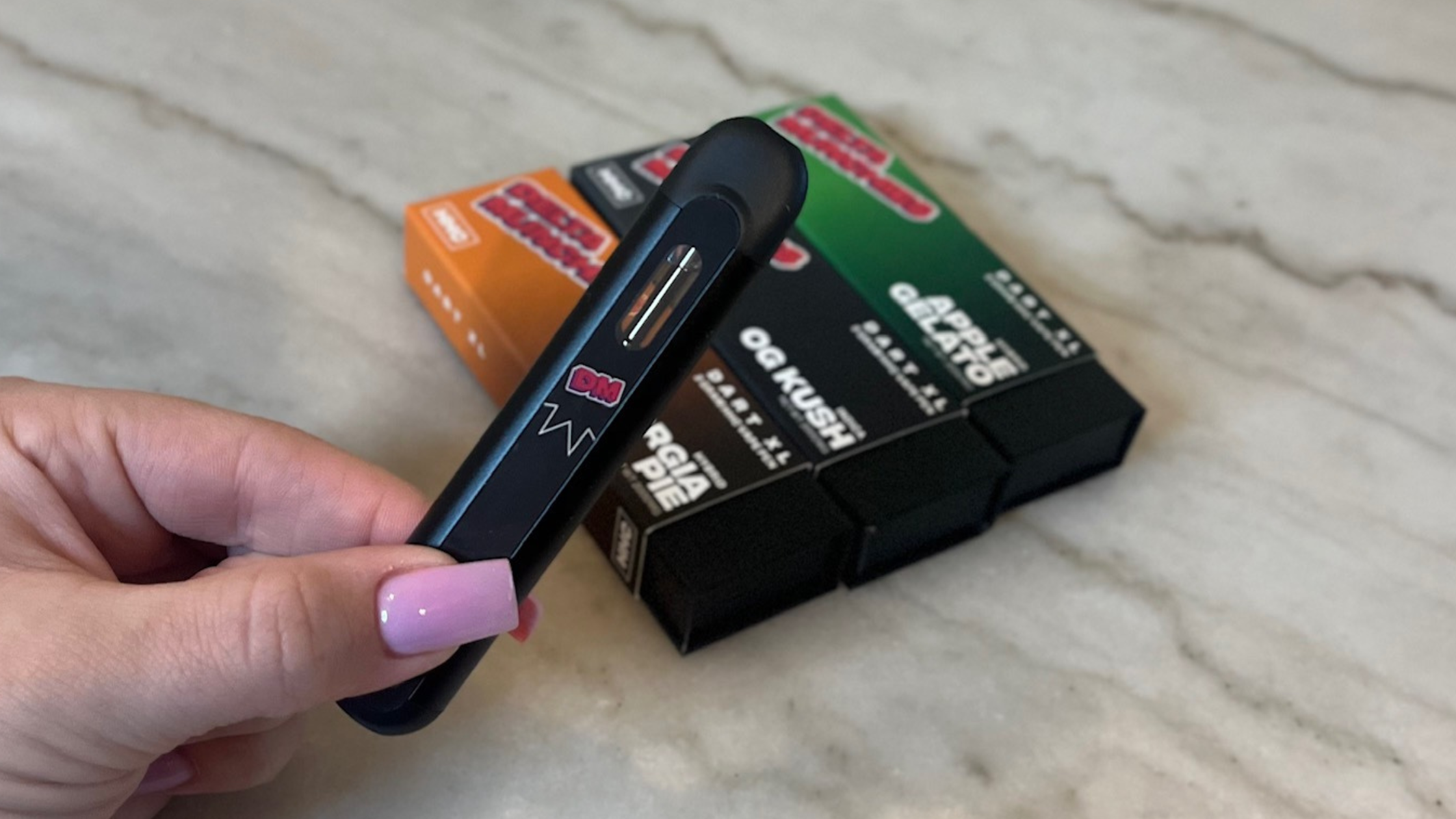 From their HHC carts and HHC gummies to their newly released HHC Dart XL disposable vapes Delta Munchies' HHC formulation is unreal! Like Delta 8 and Delta 9 products, HHC does offer similar effects but with a more pronounced potency and a slightly more Sativa geared experience.
Delta Munchies kept it simple with their HHC line combining HHC distillate with strain-specific terpenes.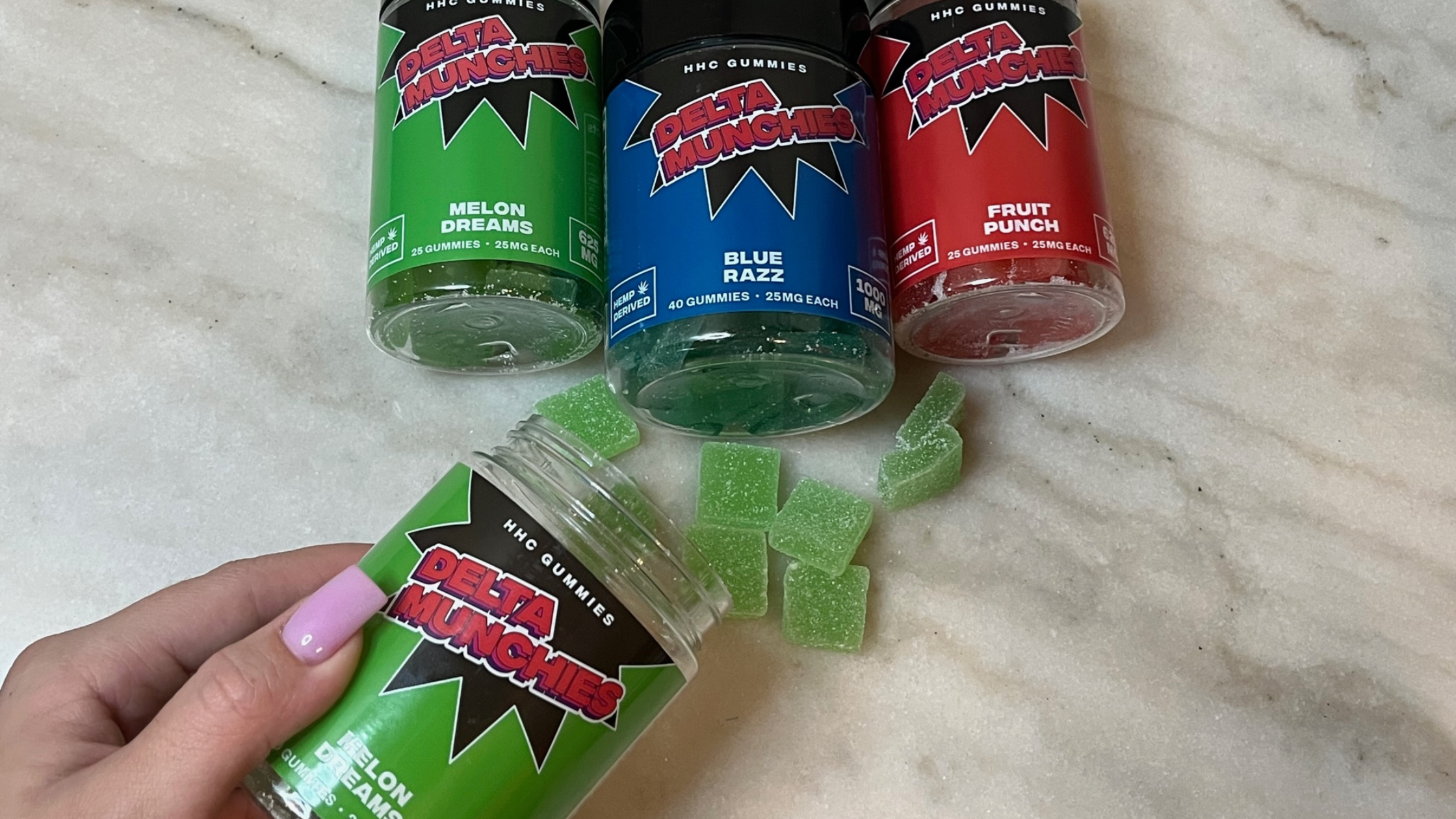 Highlights
The HHC gummies are packaged in a durable jar with a screw-on lid topped with attractive labeling. Something about the simplistic design of their products draws me to them. Not to mention how effective the jar is at keeping the gummies fresh. That's something anyone can appreciate, especially if you aren't one to plow through these quickly.
I sampled all three; Fruit Punch, Blue Razz, and the Melon Dreams HHC gummies. The texture is spot on, not too chewy, and not too soft with zero traces of hempy aftertaste. Be careful though, because these are tempting to eat like candy. They come in at 25mg of HHC per gummy and are offered in 25ct and 40 ct jars just like the Delta 9 gummies.
Effects Felt
Effects: focused, relaxed, productive

Good For: Energizing, mood-boosting, creativity, motivation
---
Delta Munchies Double Doink THC-A Diamond Pre Roll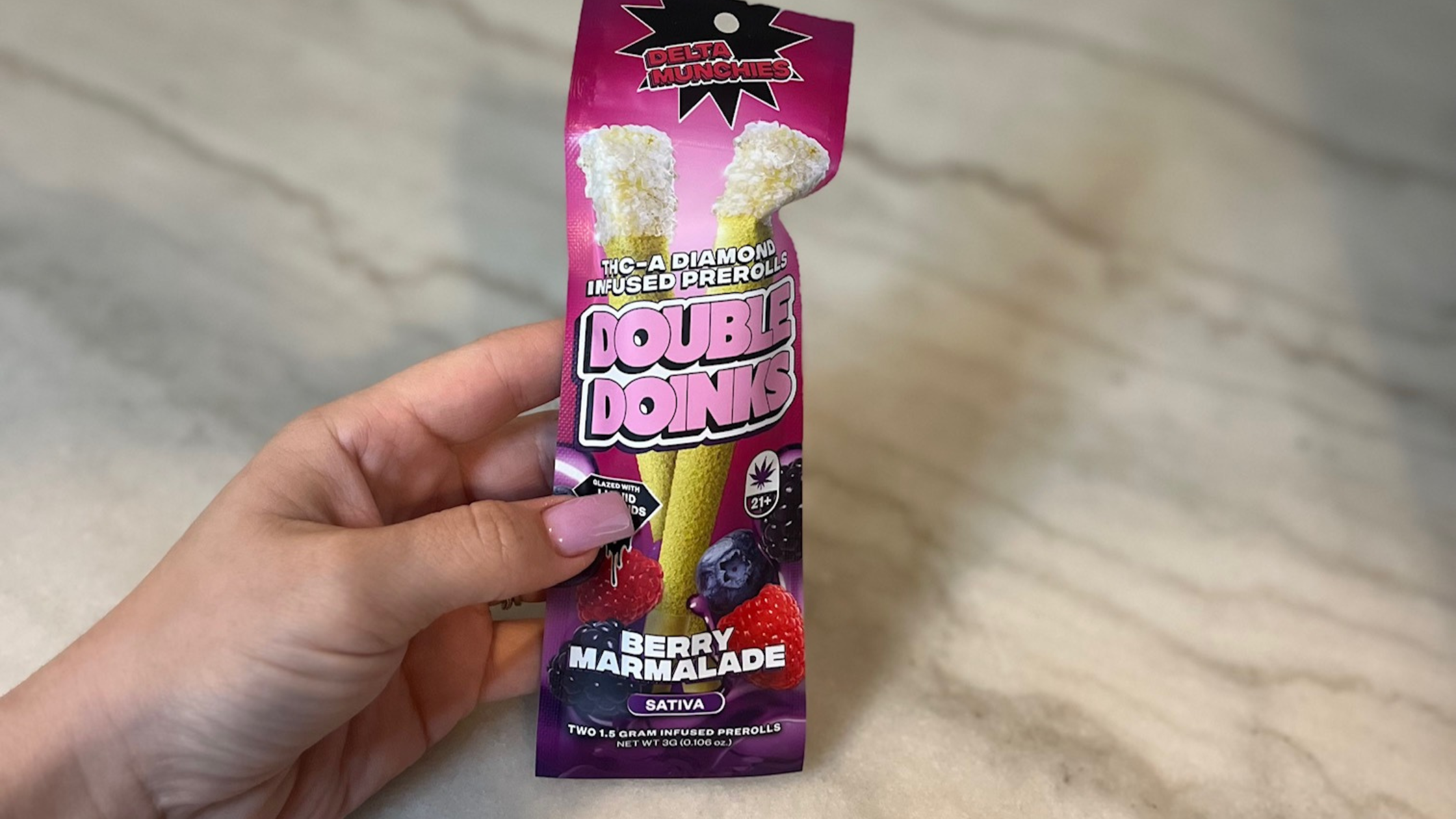 These Delta Munchies THC-A pre-rolls are a true work of art and are available in some really cool flavors like Champagne Slushie, Berry Marmalade, and Peach Cobbler flavor. Each pack has two THC-A infused pre-rolls. They are packed with premium hemp flower, rolled in kief, and then glazed with liquid THC-A diamonds.
Not only are these flavors extremely unique but when I opened the peach cobbler package I was blown away by the presentation! They were so beautiful I almost didn't want to smoke them - almost. You really get a sense of the attention to detail this brand puts into its products right away.
Highlights
Just as expected the champagne slushie and berry marmalade pre-rolls were just as potent and tasty as they were stunning to look at. Because these pre-rolls are saturated with THC-A diamonds they are intensely powerful, rich in taste, and provide ultimate relaxation. Many users deem these pre-rolls perfect for unwinding after an exhausting day, as they excel in alleviating stress, anxiety, and pain, all while delivering a profound high.
Although these pre-rolls are striking in their appearance, the actual products might not look exactly perfect in person. This is just due to packaging and the physical characteristics of the pre-rolls themselves. Can't really knock Delta Munchies for that.
Effects Felt
Effects: Relaxed, sleepy, euphoric

Good For: Boosting mood, reducing pain, reducing stress levels.
---
Delta Munchies Delta 8 Sour Belts Review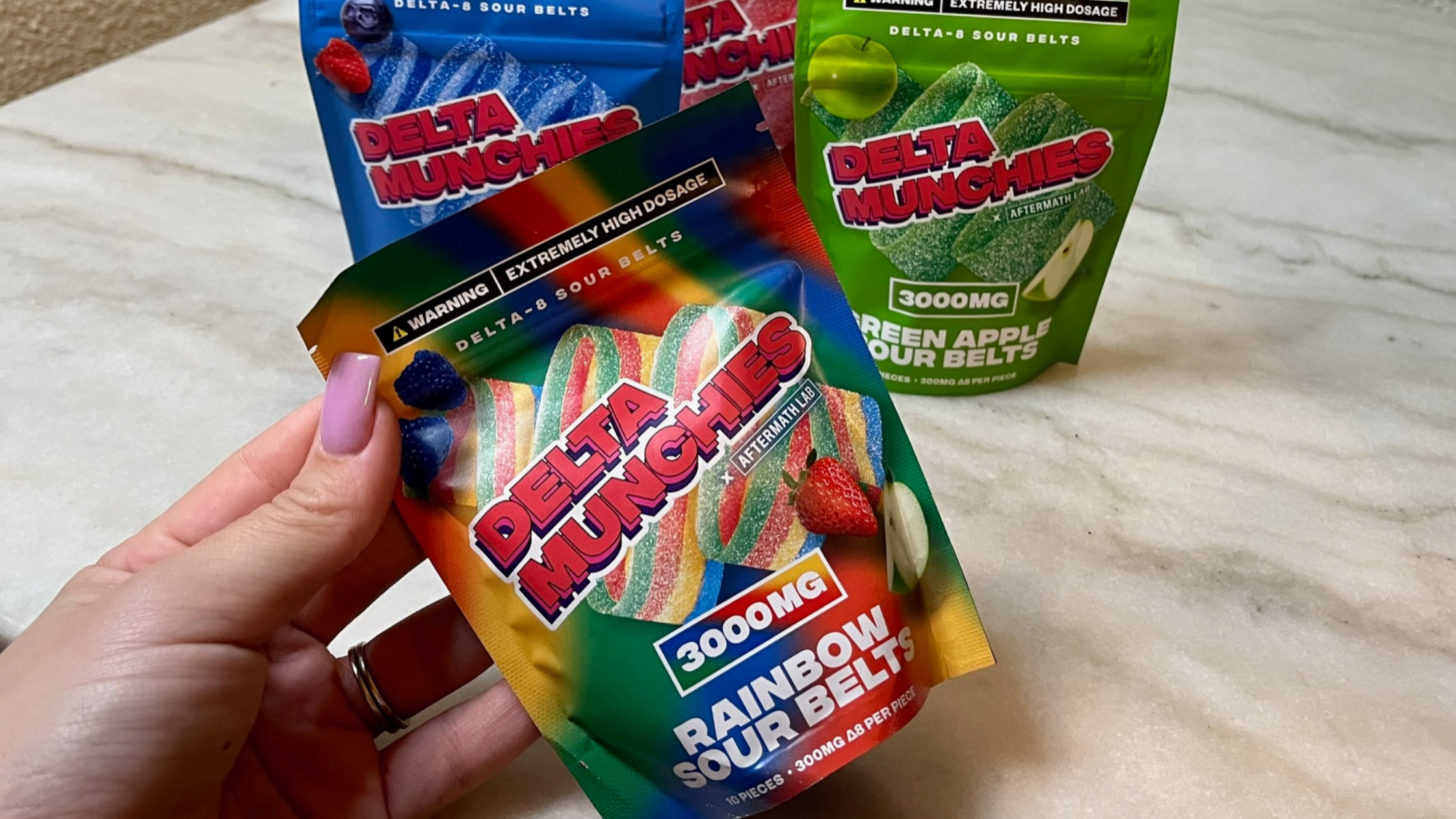 Sour Belts from Delta Munchies are definitely not designed for beginners, in fact, unless you are an experienced Delta 8 user, we recommend taking a hard pass on these. Each bag contains 3,000 mg of Delta 8 THC, with each sour rainbow belt containing a massive 300 mg!
If you give these a try just remember they are incredibly potent and I would highly suggest not consuming an entire belt all at once. You're better off starting with a tenth of a belt and then assessing from there.
Highlights
If you have a high tolerance to cannabis these Sour Belts the Delta Munchies offers are the ticket for you. Not only are they incredibly tasty to munch on but they nailed every single one of the flavors. Give it about an hour to kick in and then hold on tight. I experienced a strong full body high with a wave of relaxation and unreal sleep.  
Effects Felt
Effects: Ecstatic, calm, cozy, drowsy.

Good For: Assisting in sleep, fostering full body tranquility, eliciting joy.
---
The Final Assessment
Delta Munchie's meticulous attention to detail and commitment to purity shines through in the exceptional quality and effectiveness of each and every product they offer.
For those in pursuit of the most potent psychoactive effects, their Delta 9 THC and HHC product lines provide an unparalleled experience. Whichever path you choose, these delectable treats unquestionably deliver on their promises.
We wholeheartedly recommend giving Delta Munchies a try. You can find the full line of Delta Munchies products available to purchase at our website EverydayDelta.com. There's absolutely nothing to lose and a whole world of extraordinary hemp-derived delights to discover!