Is Urb Any Good?
Yes, Urb is an absolute top of the line hemp oil derived THC brand. Urb's parent company, Lifted Made is a publicly traded company called Acquired Sales Corp so you can rest at ease knowing they aren't some fly by night operation cranking out sketchy Delta 8 products into the market.
Not only does Urb Brand demonstrate a strong commitment to quality, innovation, and consumer satisfaction but it's apparent once you are holding Urb finest flowers hemp-derived products in your hand.
Through their focus on product excellence, innovative approaches, and transparency, Urb has established itself as a reputable provider of hemp-derived Delta 8 THC products. While individual preferences for brands and experiences may vary, this company puts it's dedication to delivering exceptional products and fostering a positive consumer experience at the top of it's priority list. This is all the proof you need to know that they are beyond good.
Looking for an Urb discount code?
For a limited time, use code: URB15 to save 15% off all Urb products at EverydayDelta.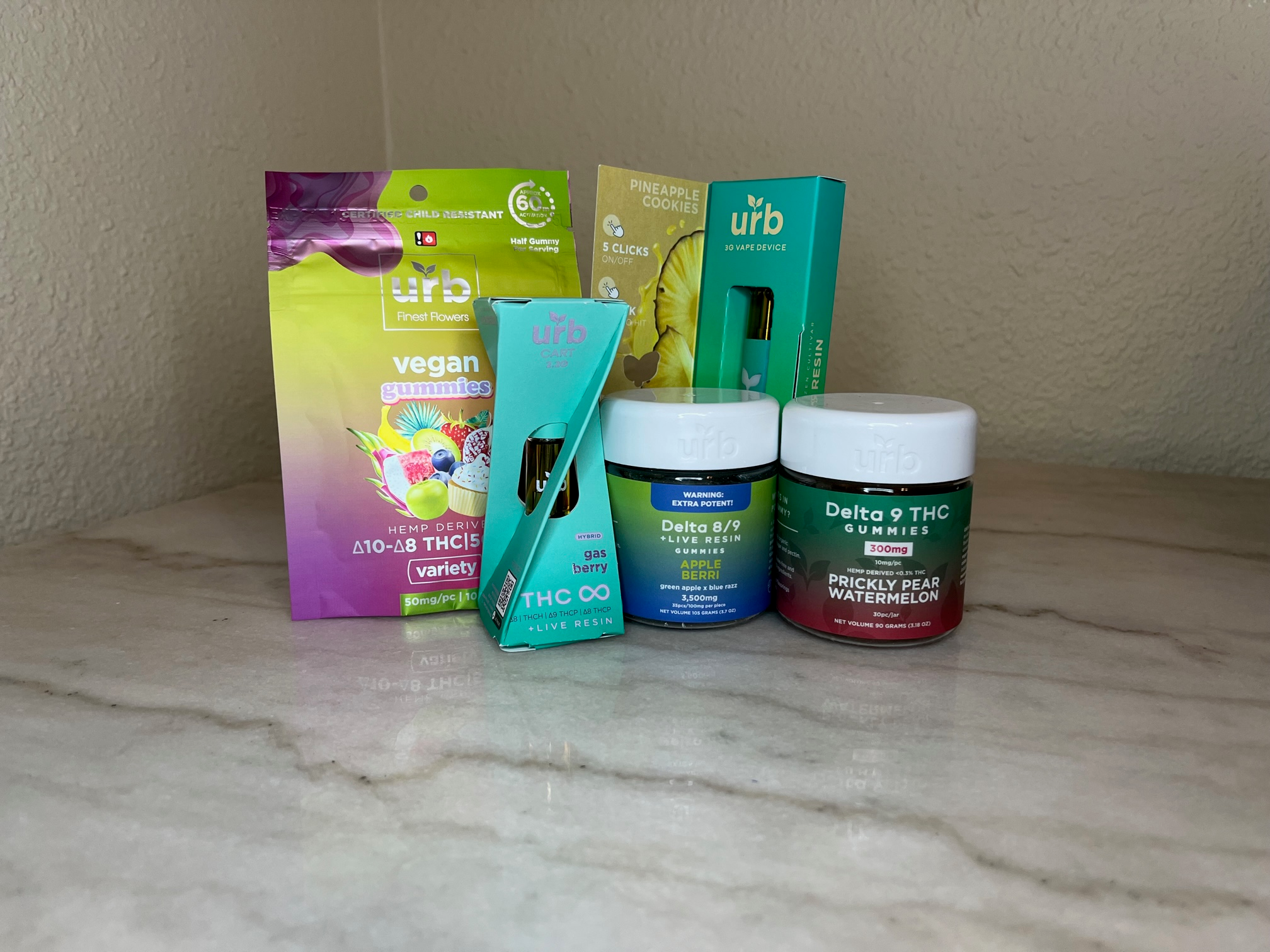 Urb Brand Highlights
At the core of Urb Brand's success is their unwavering commitment to quality. From the hemp plant cultivation to the extraction and manufacturing processes, Urb maintains stringent standards to ensure that their products meet the highest levels of excellence. Their dedication to quality is reflected in every aspect, from the carefully sourced ingredients to the final product that reaches the consumers' hands.
All of these reasons are what make Urb shines as a leader in the hemp-derived THC industry. With a diverse product lineup, a customer-centric approach, and a commitment to transparency, Urb continues to impress consumers seeking premium THC experiences. When choosing Urb, you can expect excellence, reliability, and a brand that truly cares about enhancing your THC journey.
---
The Pro's (+)
Unique and Innovative Product Selection
Urb finest flowers offers a wide selection of products to cater to individual wants and needs. Everything from gummies, pre-rolls, vape cartridges, and disposable vapes, they have something for everyone.
 

Captivating Flavors and Exquisite Terpene Profiles
Urb understands that flavors play a crucial role in enhancing the enjoyment of THC consumption. Exceptional taste is evident in every product they offer. By carefully selecting and blending terpene profiles, Urb creates a symphony of flavors to excite your taste buds and elevate your overall THC experience.
Potent Strength Options for Experienced Consumers
Urb meets the needs of experienced consumers who have developed a higher tolerance and a desire for stronger effects. They offer a variety of products with potent cannabinoid blends and THC concentrations, allowing users to customize their experience according to their preferences and desired intensity.
Top-Notch Quality at Affordable Prices
Urb offers top-notch quality at accessible price points. They believe that everyone should have access to high-quality THC experiences, regardless of their budget. Staying true to their goal, they provide premium THC products at affordable prices.
Urb firmly believes in the power of the third-party testing process to validate its commitment to quality and transparency. Urb ensures that they not only meet their internal quality standards but also provide consumers with verified lab tests for the products they are consuming. This includes confidence that all products are derived from CBD rich hemp oil extracted directly from mature industrial hemp making them 100% federally legal hemp.
---
The Con's (-)
Edibles Have a Hempy Aftertaste
The Urb brand edibles that I tried were outstanding and in my opinion exactly what I expect and want from Delta 8 edibles but to some, the addition of live resin to these gummies yields more of a hempy taste than what some may prefer. This is all matter of preference of course but something I felt was worth pointing out.
Hardware Lacking (Solved)
I consider this con one of the past and will note that Urb has recently come out with all-new hardware and has since solved the majority of the vape cartridge and device-related negative feedback many had experienced. All vape cartridges and disposable devices I reviewed were outstanding. The disposables in particular are easy to use and give plenty of options including a preheat function and three temperature settings to choose from.
---
Everyday Delta Staff Pick - Urb THCA Saucy Diamonds Disposables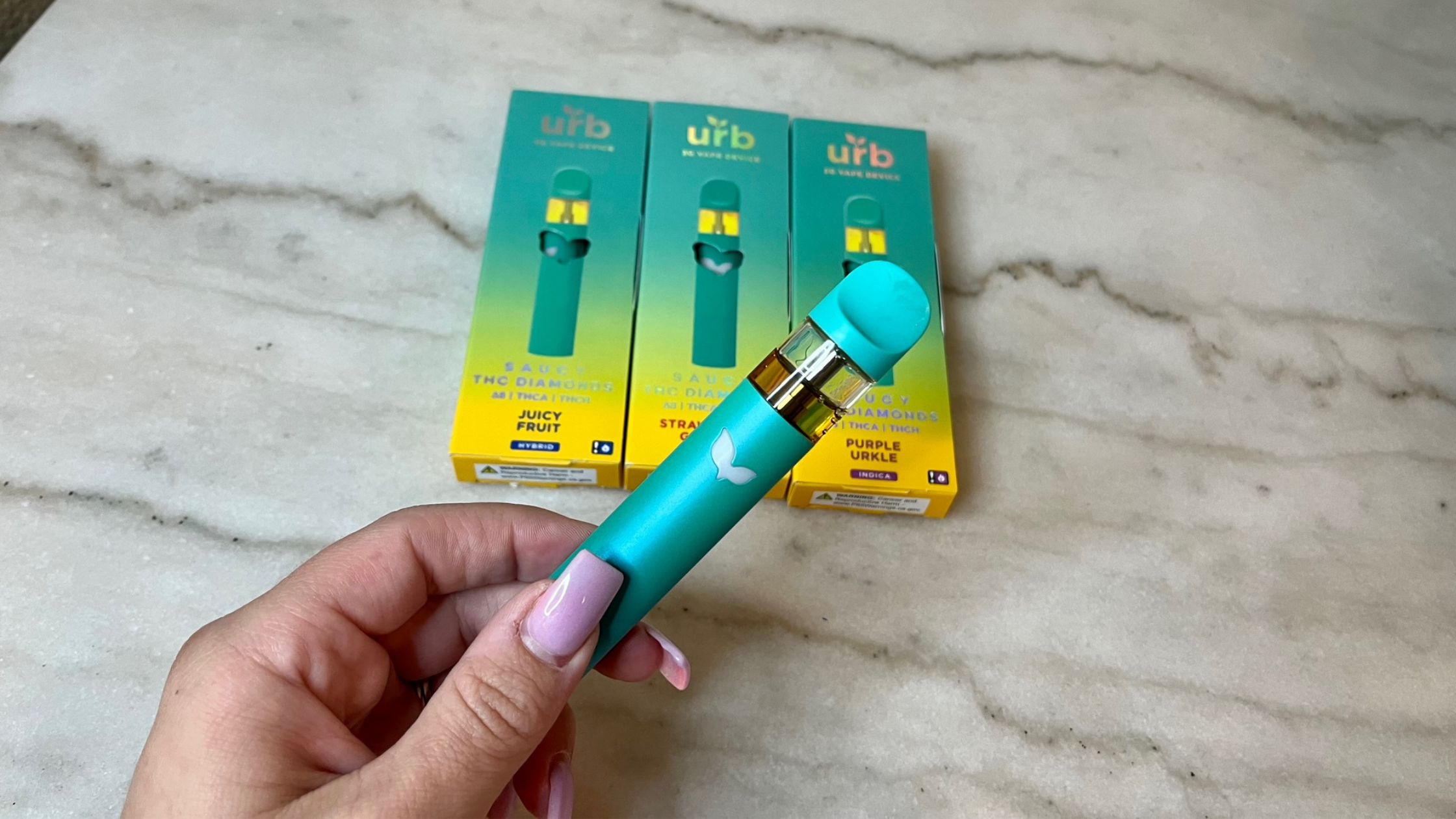 Of all the Urb products I've had a chance to try out, which has fortunately been a lot. My favorite has to be the new THCA Saucy Diamond Disposables. Both the Saucy Diamonds THCA Disposables as well as the vape cartridge have been outstanding. I will note that even with my moderately high tolerance, I have not need nearly as many puffs as other products to get the job done.
As many companies have recently started rolling out their take on THCA products, Urb's saucy diamonds have remained my all-time favorite. If you haven't tried THCA yet do yourself a favor and give these Saucy Diamond vapes a go!
---
Urb Delta 8 and Delta 9 Gummies Review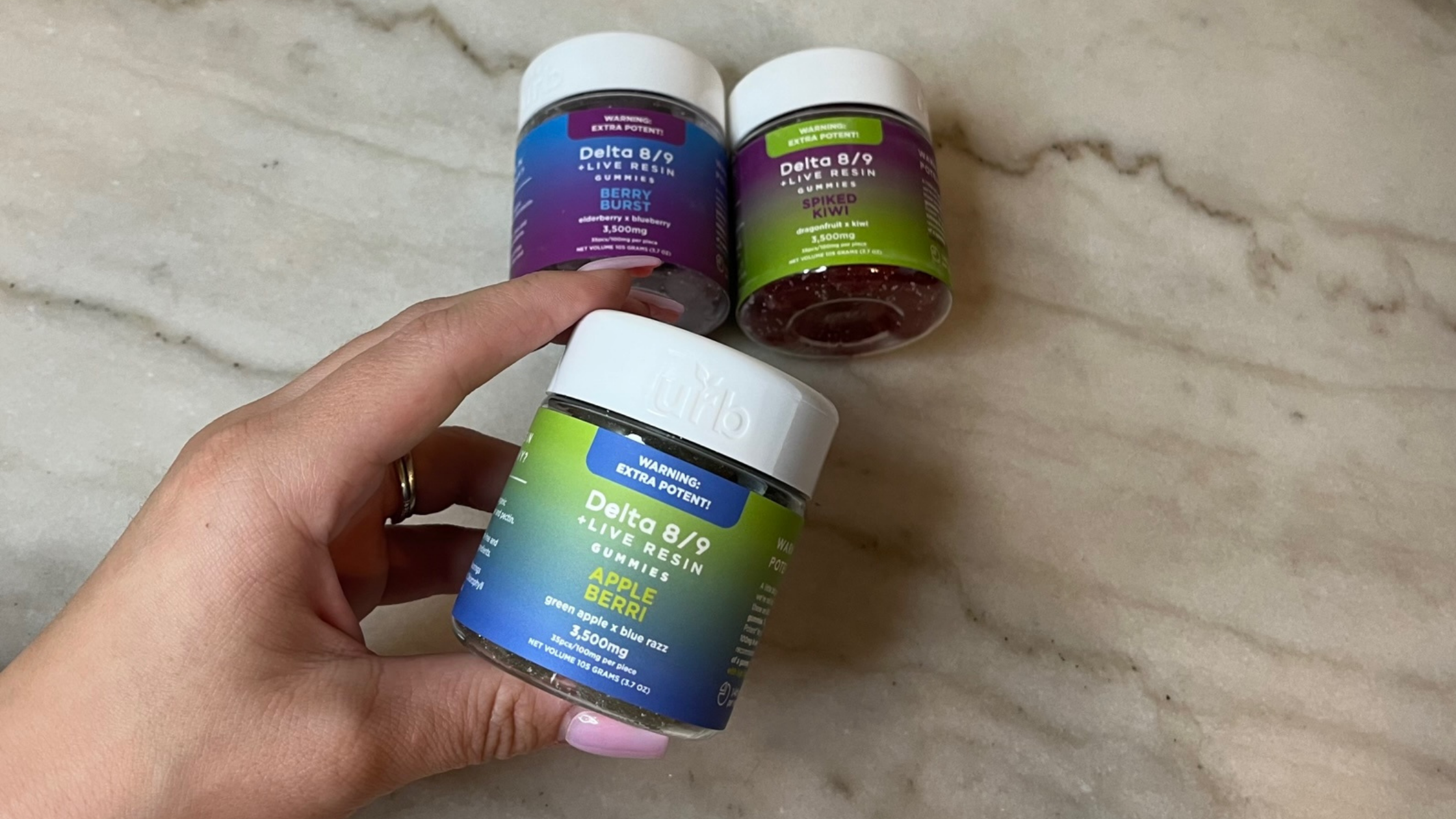 I tried a couple of different Urb gummies for this review. To start with I tried their high-potency Delta 8 and Delta 9 blend gummies. These come in some awesome flavors like Spiked Kiwi, Berry Burst, and Apple Berri, and are a whopping 3,500mg of THC per jar or 100mg per gummy.
These are hands down Urb's most potent gummies to date, packed with freshly frozen live resin hemp extract and let me tell you, I totally love the taste of live resin edibles. That's something to be noted however for those who don't care for a hempy taste, which is why I mentioned that in the con list earlier.
Lastly, I also got my hands on the Urb Delta 9 gummies, these offered up a far more tamed-down punch with a total of 300mg of Delta 9 per jar and only 10mg per gummy. These made for the perfect mellow effect, allowing me to function and go about my day in a much more stress-free way. These would be the ultimate D9 gummy for micro dosing.
Highlights
Speaking to the fact that Urb finest flowers offers a little something for everyone, these two gummy options exemplify that perfectly. While one is an ultra-potent Delta 8 edible for those experienced cannabis connoisseurs, the other is a great option for those new to hemp and who want to ease into things. The lower-dosed D9 gummies would even be great for those looking to microdose D9.
The packaging of both is spot on what you would expect from any reputable company that puts safety as a top priority. I was happy to see they featured attractive packaging with child-proof containers and lids.
As far as potency goes, holy smokes! The high-potency gummies are definitely no joke! Even having attempted to take a quarter and then half gummy to start they knocked me out! High potency might be a bit of an understatement. Both the Delta 8 and Detla 9 gummies left me with a smooth and mellow high with the Delta 8 of course delivering the strongest kick. Very enjoyable and I highly recommend them.
Effects Felt
Effects: Happy, motivated, blissful, relaxed

Good For: Promoting positivity, enhancing mood, pain relief, sleep quality
---
Urb Koko Puffz THCA Diamonds Disposable Vapes
Urb Koko disposable vapes are a brand-new collaboration between Urb and Koko Nugz. I'll be honest I was super excited to get my hands on these new vapes and man they didn't disappoint. First off, I was excited to see THCA in the blend. These feature a blend of Delta 8, THCA, and THC-P.
These are expertly crafted with 3 grams of Delta 8, THC-A liquid diamonds, and THC-P paired with oleoresin terpenes. To sum that up in fewer words... Amazing and extremely potent! I experienced total body relaxation along with a calm state of mind and an uplifting feeling.
The very first thing I noticed was the super cool packaging, even cooler than that though was how amazingly smooth these vapes hit. The flavor was just the right amount of flavor without coming across as overbearing or artificial and I was greeted with an extremely pleasant aroma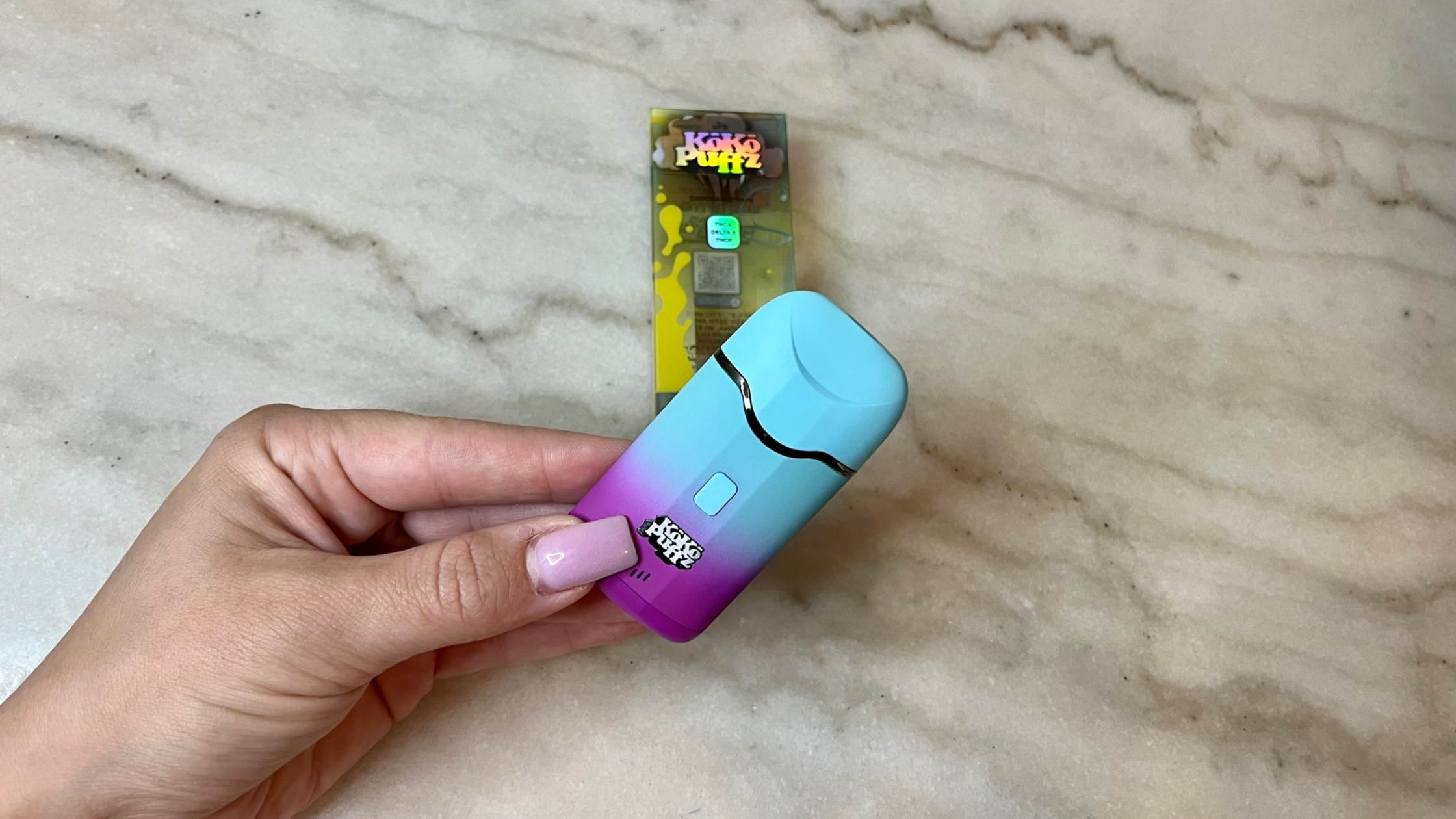 Highlights
Let's talk options, I only tried the Sherblato flavor which is a hybrid strain for this review but they are also available in Green Crack, Unicorn Piss, Lemon Cherry, and Purple Runtz. I was also a big fan of this new unique device which features adjustable heat settings (3 options) making it very easy to use and convenient.
A quick charge via a C-port charger (not included) has this rechargeable device and you are ready to go at all times.
Effects Felt
Effects: Uplifting, Calming, and Euphoric

Good For: Promoting feelings of happiness, Boost mood
---
Urb Delta 8 live resin disposables
I'll be honest I am usually a fan of anything that features live resin. These Delta 8 live resin disposables from Urb are no exception. Once again, my first impressions of this product were very positive. The packaging featured well-executed product descriptions, usage instructions, and visuals which gave off a vibe that perfectly matched the flavor and experience I felt.
Urb kept it simple with their D8 live resin disposable with a straightforward blend of Delta 8 THC distillate with strain-specific terpenes on top of live resin.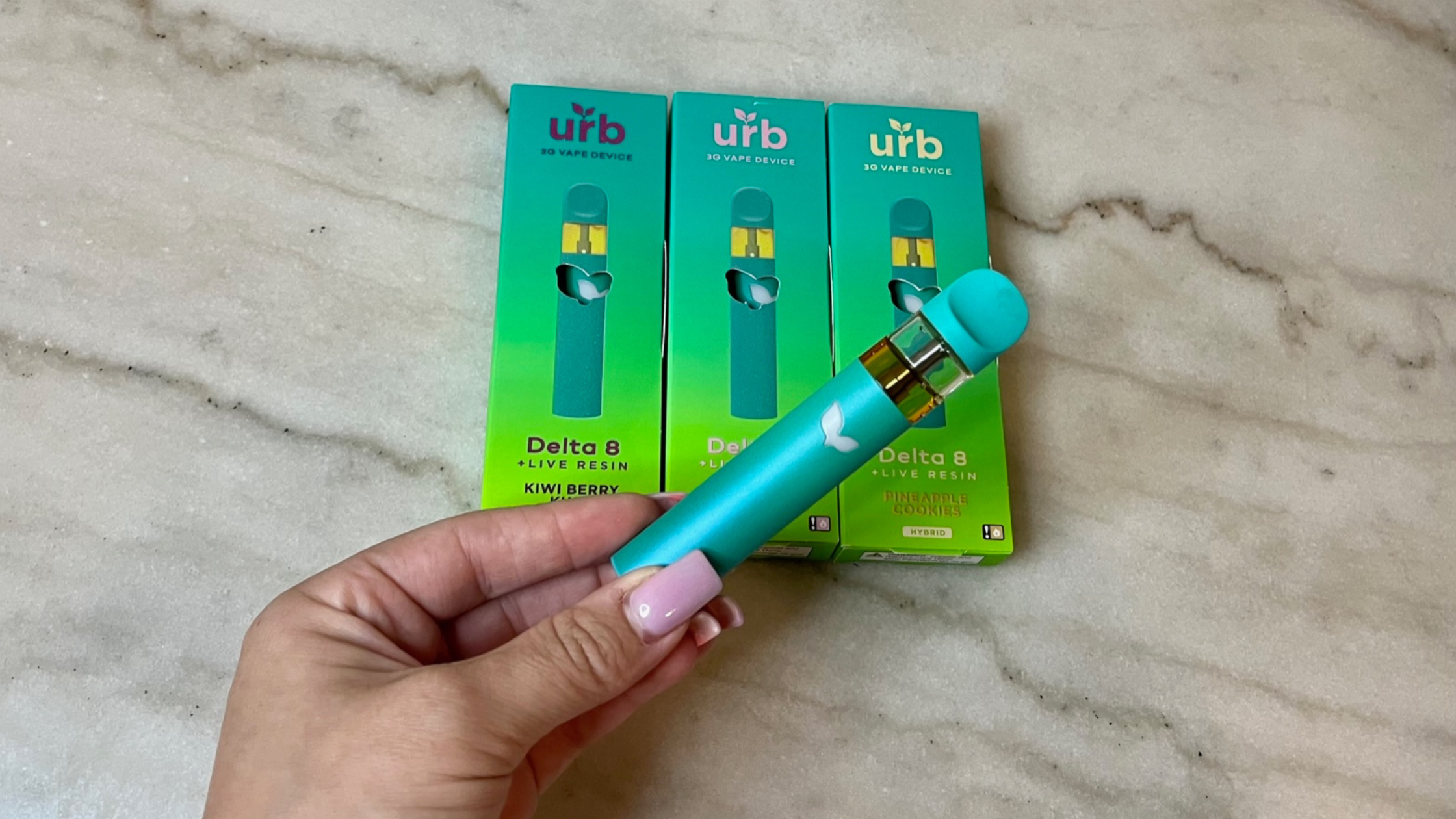 Highlights
These Urb Delta 8 THC disposables come in Urb's new and improved 3g device. Once again, this is a premium disposable that includes simple to use on/off, variable voltage adjustment, and preheat if needed which I find can be helpful in the event I am carless and end up with a clogged vape. I really appreciate this and find that regardless of the products quality ge
I sampled three different flavor and strain profiles for this review; Northern lights (Indica) Banana Runtz (Hybrid), and Kiwi Berry Kush (Sativa). My preference typically leans towards Indica strains and this experience was no different. Don't get me wrong the taste and effects of all of these were outstanding.
Effects Felt
Effects: Focused, relaxed, productive

Good For: Energizing, mood-boosting, creativity, motivation
---
Urb Infinity Vape Carts and Disposables Review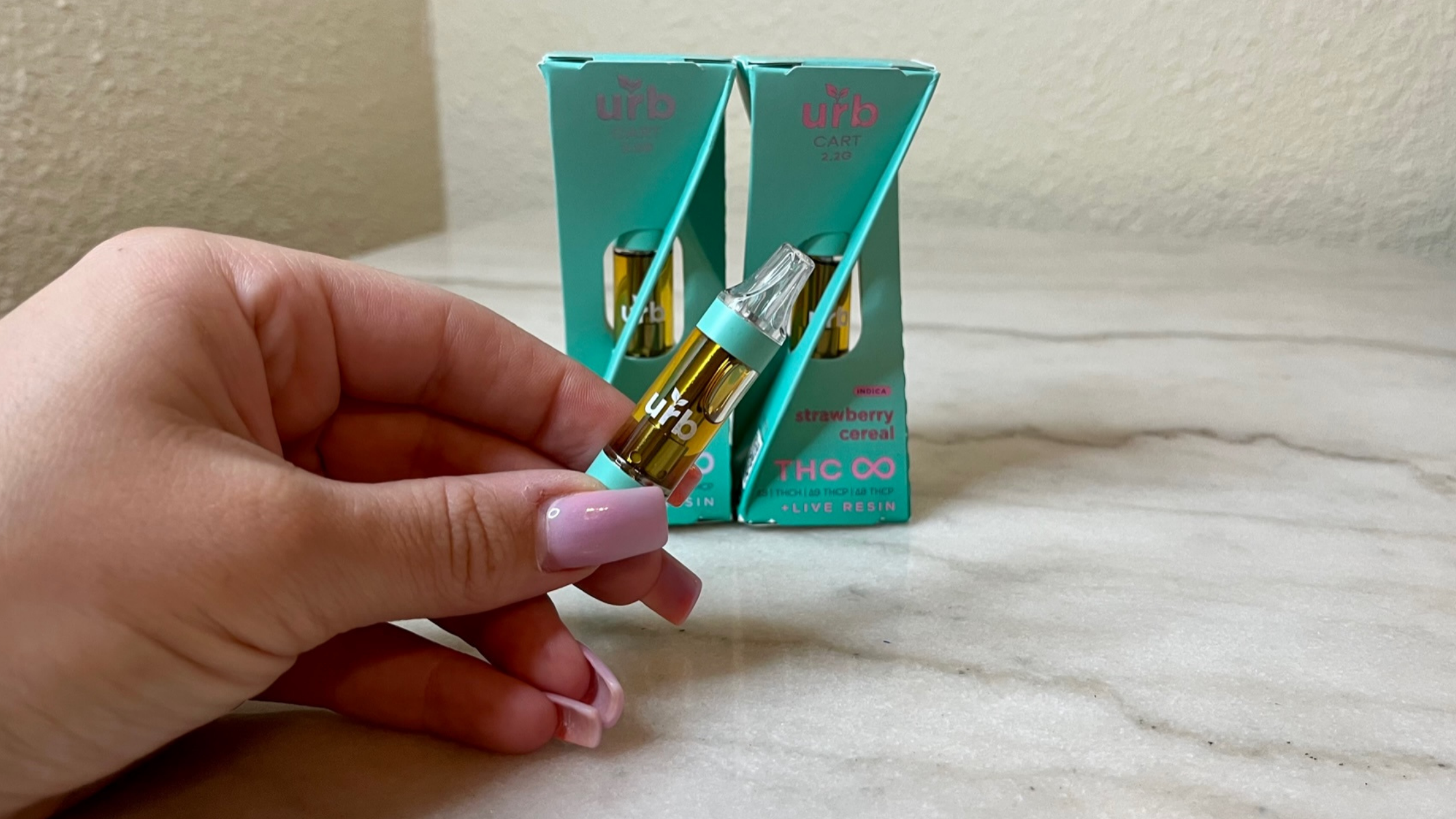 Highlights
Last up was Urb's THC Infinity Blend. These are made in both disposables as well as 2.2 gram carts. I have to say that the effects are pretty potent and feel much closer to normal weed than most straight Delta 8 carts. The Infinity carts consist of a blend of Delta-8, THC-P, THC-jD, and THC-H with Oleoresin.
These added cannabinoids definitely lead to an entourage effect that you can feel. These carts feel stronger and hit harder than a standard Delta 8 cart. The effects are very good in my opinion, and I found the flavors I tried to be very enjoyable.
On the flavor side of things, I tried Gas Berry, it tastes exactly like real weed with some notes of fruit on the exhale. It definitely hits hard and can cause some mild coughing but to a very reasonable amount for this blend of cannabinoids.
The vapor production is incredibly solid, there's a nice amount of airflow, and the window on the side makes it fairly easy to tell how much longer until you need to grab another.
Effects Felt
Effects: Relaxed, sleepy, euphoric

Good For: Boosting mood, reducing pain, reducing stress levels.
---
The Final Assessment
Urb Delta 8 and other hemp-derived THC products are some of the best on the market. I find myself getting noticeably excited when I hear about a new product offering from them. Plus, as every good hemp company should, they back all of their products with third-party test results.
These lab results more than verify their products are free of solvent residuals and heavy metals, they show that Urb really does put their customers first. Meticulous attention to detail and commitment to purity shines through in the exceptional quality and effectiveness of each and every product they offer.
Go ahead, give Urb finest flowers products a try. All of these awesome Urb products are available at online stores like Everyday Delta. Check out all Urb products today!