Are Moonwlkr Products Any Good?
In a rapidly evolving cannabis market, discerning quality from subpar offerings can be a difficult task for consumers. As more Delta 8 THC brands enter the market, finding the best brand and products that fit your needs has become tougher. Trying a new brand or new release can seem a bit risky.
We understand that you're seeking trustworthy names that ensure safety, quality, and a satisfying experience. One such brand making waves in the industry is Moonwlkr, known for their innovative and premium range of hemp-derived Delta 8 products. We'll go into an in-depth review of the Moonwlkr brand, aiming to provide a comprehensive insight for those who might be considering their products.
Looking to save money with a Moonwlkr discount code? We've got you covered, for a limited time use code: MOON to save 15% off all Moonwlkr gummies, vapes, and tinctures at EverydayDelta.com.
Moonwlkr Review Highlights
Moonwlkr has emerged as a key player in the hemp derived THC space, with many customers boasting positive reviews praising their potent, flavorful, and meticulously tested product lines. But what sets Moonwlkr apart in a crowded market? Are their products as reliable and satisfying as they claim to be?
To answer these questions and more, we'll examine Moonwlkr's brand reputation, product range, quality assurance practices, and customer experiences. Whether you're a potential consumer or just curious about the world of hemp-derived products, this review will offer you the information you need to make an informed decision.
You may also like our Delta Munchies and Urb Review. 
---
The Pro's (+)
Top notch Flavors
Moonwlkr injects an added layer of excitement into their Delta 8 products with terpenes – botanical compounds that infuse distinct flavors, aromas, and potentially even effects into different cannabis strains. Their creations draw inspiration from some of the most beloved strains in the cannabis world such as sour strawberry diesel, pineapple mango kush, sour blue dream berry, sour lemon haze, and many other flavors.
Wide Product Selection and Variation
Moonwlkr understands the need for individualized experiences in the realm of hemp-derived CBD and THC products, and their diverse lineup reflects this understanding. From delicious goal specific gummies available in a spectrum of unique flavors to potent vape cartridges and disposable vape pens, they offer something for everyone.
Safety and Purity Testing
Moonwlkr places a high emphasis on the quality and safety of their products. They utilize third-party lab testing to ensure the purity, potency, and safety of their products, providing consumers with Certificates of Analysis for each product. Simply scan the QR code shown on each product are you are immediately directed to third party labs.
---
The Con's (-)
Premium Product, Premium Pricing
Premium quality often comes with a premium price. Moonwlkr's products might be seen as expensive by some consumers, especially when compared to other brands in the market. While we see their products as high value for the money you can always find lesser quality in an effort to save money. 
Limited Cannabinoid Options
While Moonwlkr offers an expansive variety of flavors in their Delta 8 gummies and vape categories, it is a relatively focused line. Meaning for those who are looking for other cannabinoids such as Delta 11, Delta 6, etc. you may not find what you are looking for.
---
Everyday Delta Staff Pick
Moonwlkr's full spectrum Blue Dream Berry CBD + Delta 9 gummies stood out to me the most and are solid choice as a delicious Delta 9 edible with full spectrum effects. These gummies provide just the right dosage, allowing me to unwind and alleviate stress as soon as their delightful flavors hit my taste buds. Plus, they come in one of my favorite flavors.
These D9 gummies are full spectrum and deliver a 5:1 ratio of CBD to other powerful hemp compounds which really does offer a zen filled buzz with every gummy as advertised. The impact of these gummies is noticeably more remarkable compared to many standard Delta-9 options available in the market. The entourage effect is not only discernible, but it's also greatly valued.
---
Moonwlkr Delta 8 Gummies Review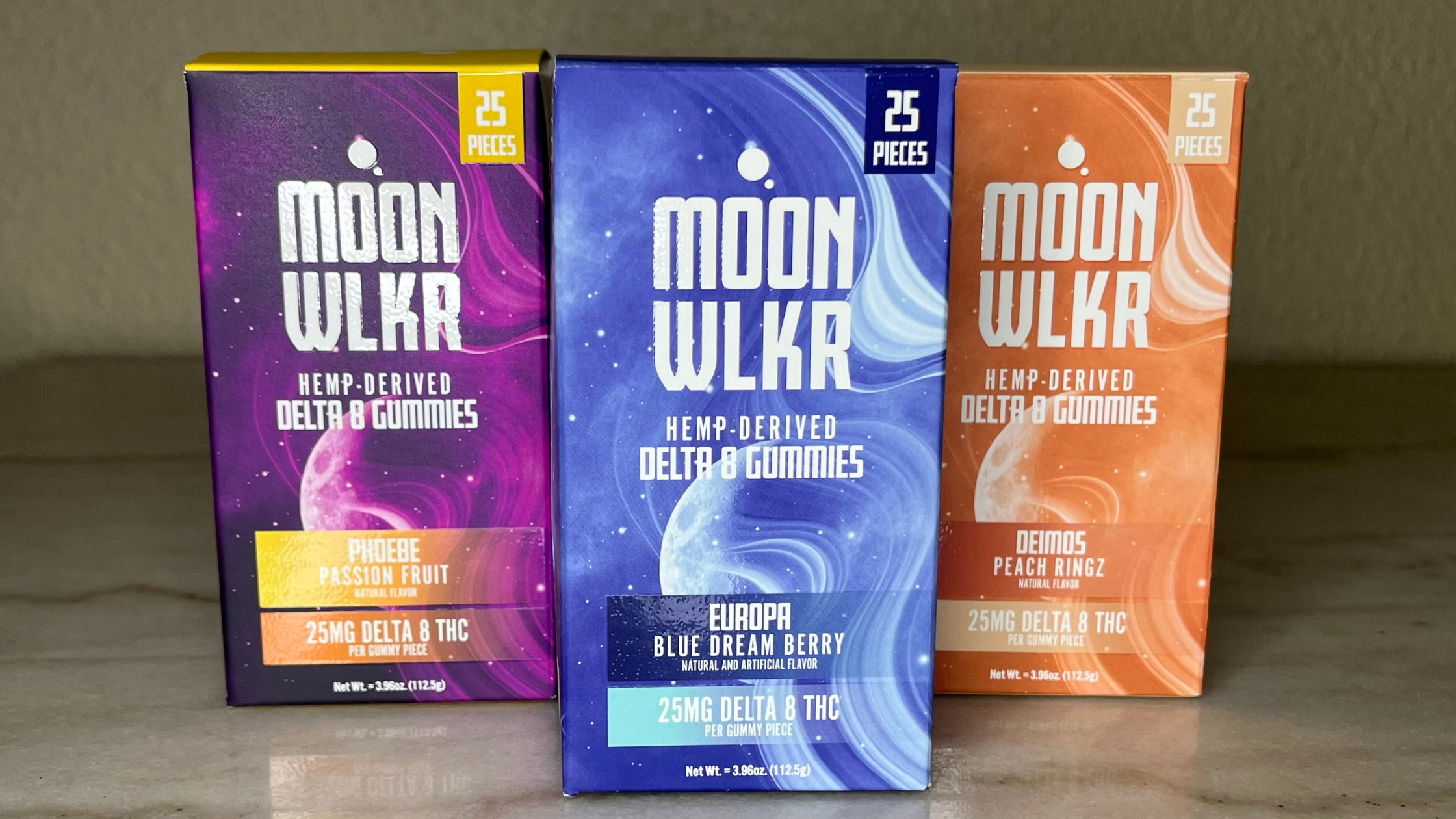 Moonwlkr Delta 8 gummies have been a staple for some time now and the brand offers an extensive, ever evolving list of delicious flavors so you never get bored. You can even find assortment Delta 8 gummies called "Comets" which gives you 20 gummies in a mixture of Sour Berry Dream Berry, Purple Punch, Pineapple Mango Kush, and Limoncello Haze flavors.
Let's take a look at the product presentation. What stood out as obvious to me was Moonwlkr's clear dedication and care that they put into their products. All of their products are meticulously sealed and packaged and come with third-party lab reports. This is what you would expect from a highly reputable Delta 8 company, and this definitely instilled a sense of trust before I even tried the products, making me anticipate the experience even more.
Moonwlkr Delta 8 gummies now feature 25mg of Delta-8 per gummy compared to the 12.5mg of their past iterations and for most this is a perfect amount. I decided to go with the Strawnana and Peach Ringz flavors, and I was greeted by an invigorating fruity taste that was both lush and refreshing. Now, I've tried many Delta 8 gummies, but what surprised me about Moonwlkr's was the nuanced balance—they were sweet, flavorful, yet not overwhelming.
Also of note, they are on the firmer side compared to other gummies I have tried, It would seem to me that these gummies would actually handle heat a bit better than other softer gummies would.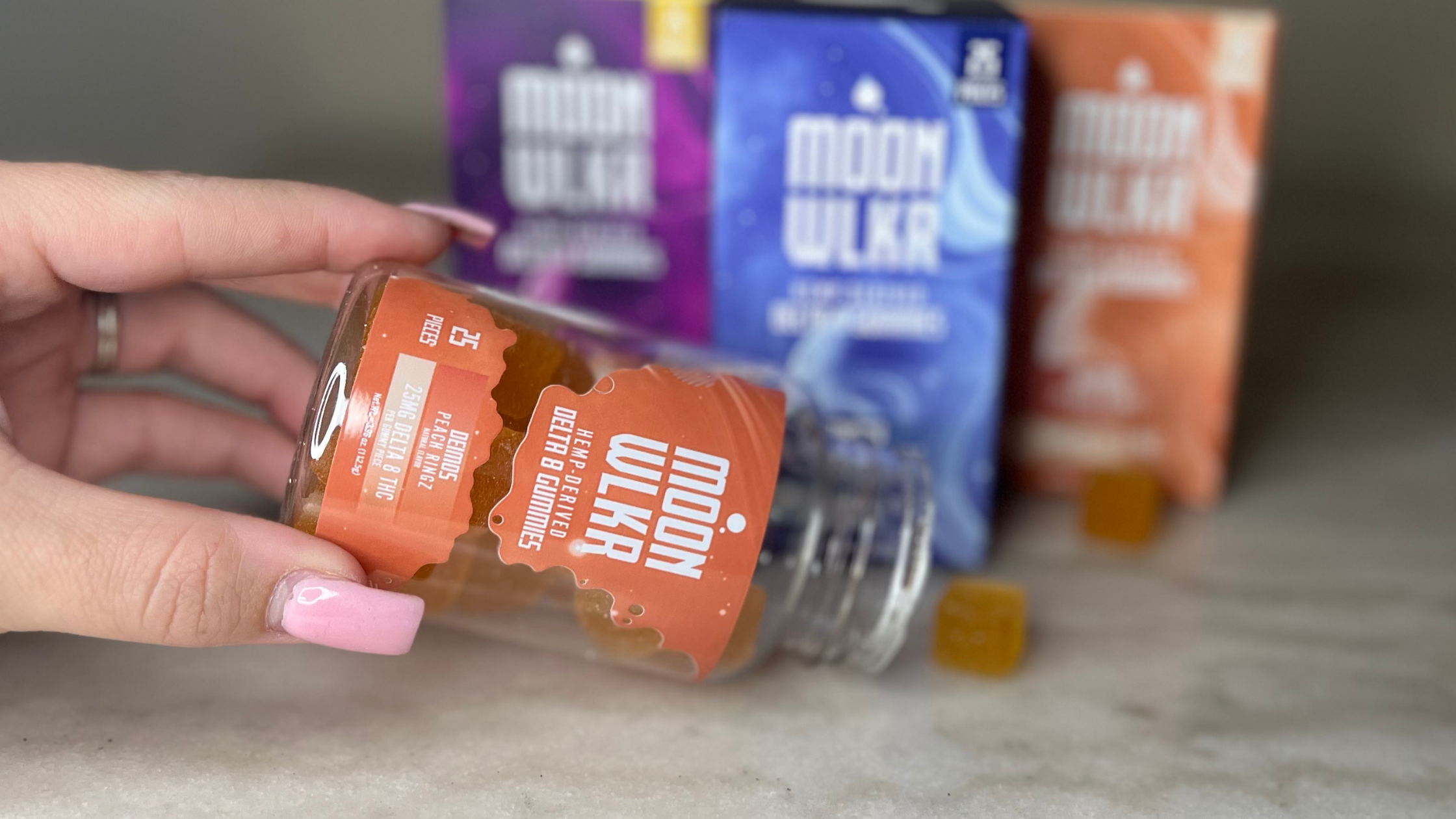 Highlights
About an hour after taking just one the effects started to settle in. It was a gentle wave of relaxation and calmness that didn't compromise my clarity or focus. For those of you who are apprehensive about the intensity of cannabis products, let me assure you, these gummies offer a milder but still satisfying, experience.
It's for these reasons that I highly recommend Moonwlkr's Delta-8 gummies. Whether you're new to the world of THC or an experienced user seeking a less intense alternative, these gummies could be the perfect choice for you. Remember to start with a low dose and gradually adjust your Delta 8 dosage as per your comfort and preference.
Available Flavors: Mango Kush, Key Lime Pie, Mango Kush, Pineapple Express, Pink Lemonade, Purple Punch, Creamy Strawberry, Cerebral Buzz, Grape Terpenes, Blue Dream Berry, Black Raspberry, Sour Strawberry Diesel, Cucumber Lime, Blood Orange, Passion Fruit, Peach Ringz, and Watermelon Zkittlez.
Effects Felt
Effects: Calming, Mild Euphoria, Relaxing

Good For: Mood enhancement, improved focus, relaxation before bed.
---
Moonwlkr Delta 8 Vape Carts Review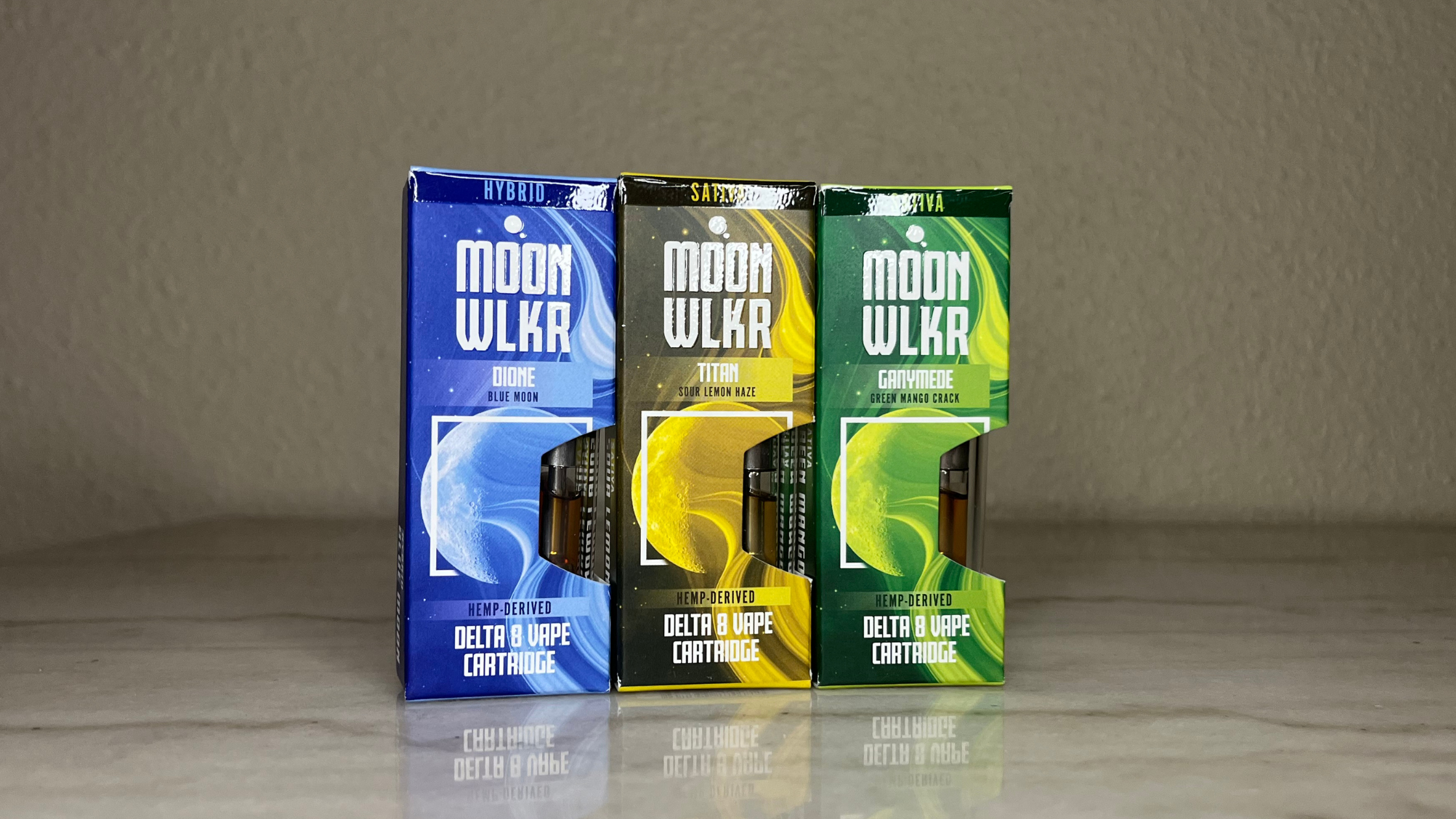 By combining award-winning terpenes and natural flavors in unique, custom blends Moonwlkr hits a new dimension of taste, balance, and euphoria for all cannabinoids they offer. Thier Delta 8 vape carts and disposable vape pens are no exception.
While some may prefer cannabis derived terpenes (CDT), Moonwlkr vapes utilized botanically derived terpenes instead. While plant derived terpenes are still great, you will find the hempy taste some desire is lacking. This if of course tied to personal preference. While we are unsure where Moonwlkr sources its hemp from, and what extraction methods it uses in our personal experience these carts were more than enjoyable.
All Moonwlkr vape carts conform to the standard 510 specifications, making them compatible with most batteries. They're constructed from stainless steel and food-grade silicone, featuring a custom ceramic heater designed specifically to optimize the use of hemp extracts. Most importantly, these cartridges are free of any cutting agents, such as vitamin E.
Available Flavors: Strawberry Gelato, Granddaddy Berry, Green Mango Crack, Orange Chemdawg, Grape Runtz, Blue Moon, & Super Lemon Haze.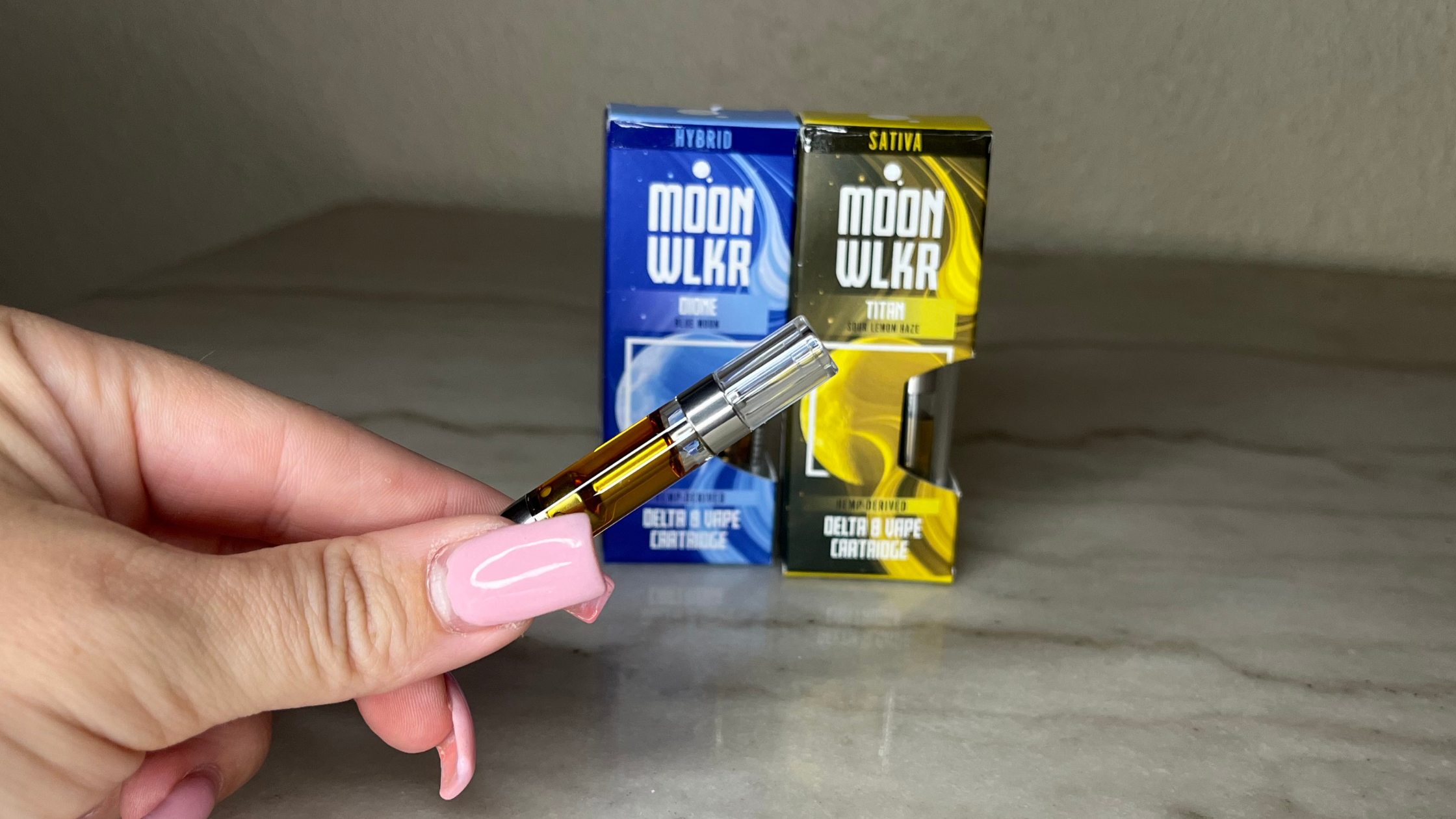 Highlights
I don't always get to try the entire lineup when doing brand reviews but in this case, I was able to get my hands on all flavors and strains of their Delta 8 carts. They offered some strains like that I was sure I'd love, and I wasn't wrong. These Moonwlkr Delta 8 vapes hit hard and produce a welcomed cloud of vapor with every pull.
Regardless of your favorite cannabis strains is, each strain was true to its purpose with the Indica strains leaving me melting into my chair and the Sativa dominant strains boosting my creative side as I went about my day. The head high was there but I was left with a very functional high.
Effects Felt
Effects: Increased creativity, focus, relaxation

Good For: Good night's sleep, relaxing, hanging out with friends
---
Moonwlkr Delta 8 Tincture Review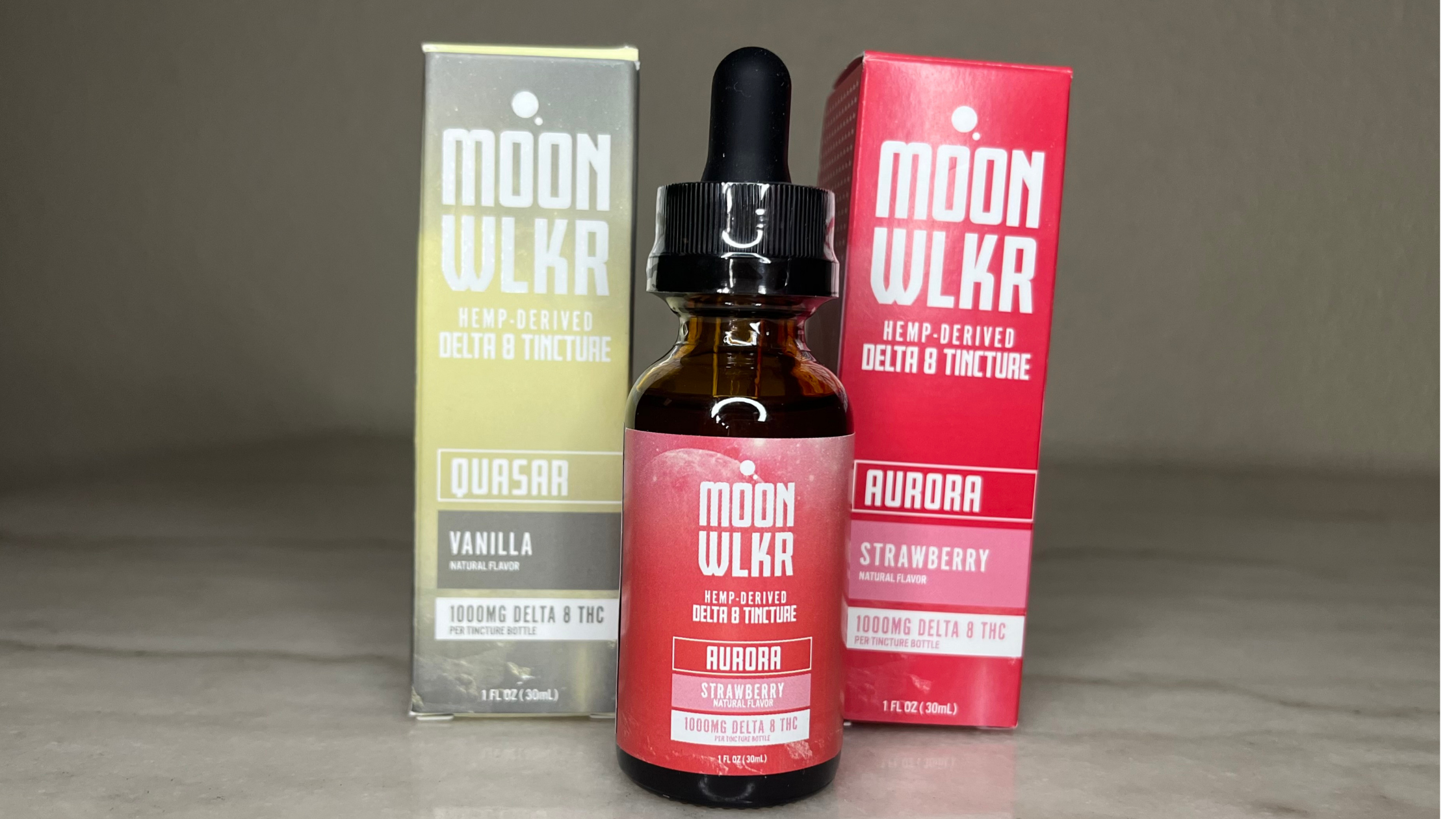 Delta-8 tinctures might be a good fit for several types of users, although the effects can vary based on individual body chemistry, tolerance, and dosage. I have always found the effects of Delta 8 THC tinctures to be a bit more on the potent side and always enjoyed them for their ultra-fast absorption. This makes them a great option for anyone weary about the timing issues that can come from edibles.
I personally couldn't be a bigger fan of the orange cremesicle flavored Delta 8 tincture from Moonwlkr. It hands down is one of the best tasting tinctures I've ever tried and comes in a 1,000mg bottle. It legitimately brings me back to those orange dreamsicle pops I remember eating as a kid.
Highlights
Aside from flavor, these tinctures worked for me just as described above, I noticed a very quick onset of effects. While Delta 8 is relatively mild compared to other cannabinoids something about the sublingual absorption just makes it hit that much harder for me. Moonwlkr Delta 8 tinctures are two thumbs up for me all day long!
What about CBD tinctures? Well, Moonwlkr tinctures can also be had in a CBD + THC 3,000mg blend for those looking for more of a CBD based tincture. While there is Delta 9 present in this variety, the lab tests show that it is on the lower end of the blend with 100mg of CBD and only 2mg of THC per dropper. These would be a great option for anyone looking for the many potential benefits of CBD with just a mild THC kick.
Available Flavors: Orange Cremesicle, Strawberry Aurora, & Vanilla
Effects Felt
Effects: Quick acting, clear head high, euphoric

Good For: Increased focus, relaxation, sleep
---
Moonwlkr Full Spectrum Sleep Gummies Review
Moonwlkr's full spectrum sleep gummies offer a range of benefits that make them an appealing choice for individuals seeking to improve the quality of their sleep. These gummies are carefully formulated with a range of ingredients from the hemp plant along with melatonin. The Blackberry Lavendar flavor is not only fitting for their purpose but just as deliciously good.
Not only were these just designed to promote a good nights sleep, but they also just flat out work and better yet, they helped me actually stay asleep!
Like the Moonwlkr delta 8 gummies, these sleep gummies are made with sugar, corn syrup, pectin, sunflower oil, water, flavoring, sodium citrate, sodium acid sulfate, citric acid, natural and artificial food coloring, 25 mg of Delta 9, 5mg of CBD, and plant-derived terpenes plus the added benefit of 3mg of Melatonin. As an added bonus they are both vegan friendly and gluten free.
Highlights
Whether you struggle with sleep issues or just need a little help winding down at the end of the day, Moonwlkr's full spectrum sleep gummies could be the solution you're looking for.
My favorite part about these we of course the fact that they helped me get a better night's sleep but that they in no way knocked me out or caused me to feel groggy or sedative the following morning. While I have found sleep focused products that have worked for me it has always come at a compromise of feeling sleepy upon waking up, not the case with these tasty Moonwlkr CBD + THC sleep gummies.
Effects Felt
Effects: Calming, sedative, and relaxing

Good For: Falling asleep and staying asleep
---
Moonwlkr CBD + THC Gummies Review
Similar to the Moonwlkr sleep gummies I reviewed above, Moonwlkr also makes a CBD + THC version without the added melatonin that still comes in a 5:1 ratio of full spectrum CBD to Delta 9. These are definitely more geared for those looking to enjoy the potential benefits and effects of CBD and THC without the added effects of promoting sleep.
After trying these compared to the sleep gummies, I have to say I thoroughly enjoyed these. They again gave me far less of a high which is to be expected with any product that focuses its blend of ingredients heavier on the CBD side of things.
In fact, CBD can mellow out the psychoactive effects. I would probably suggest these to anyone who is looking for possible health benefits of CBD but also wanting minor effects of THC. For those looking mainly for psychoactive effects I would suggest Moonwlkr Delta 9 THC gummies.
Available flavors: Watermelon zkittlez and blue dream berry
Highlights
The watermelon zkittlez CBD + THC gummies gave me a nice mellow relaxation without much psychoactive effects. Don't get me wrong it was definitely noticeable and was very enjoyable. I actually found this very light buzz to be perfect for going about your day without the worry of feeling intoxicated or impaired in any way.
Moonwlkr even offers a CBD + Delta 8 gummies for even milder effects. 
Effects Felt
Effects: Very mellow buzz, euphoric, uplifting

Good For: Those looking for the potential benefits of CBD, daytime use, mellow relaxation
---
The Final Assessment
Moonwlkr, as a brand, has established itself as a reliable player in the hemp-derived Delta 8 industry. The company's dedication to quality, customer safety, and innovation shines through their product range and customer experience. However, as with any product that can alter your state of mind, potential users are always encouraged to do their own research, start slow, and use responsibly.
If you are looking for a wide variety of fun and unique fruity flavors which continue to surprise us, Moonwlkr gummies may very well be your answer. You can find all of the most popular Moonwlkr products available to purchase at EverydayDelta.com. We offer a wide variety of top brands, outstanding prices, and fast shipping right to your door! Trust us, you'll be thanking us later :)
Plus, we may even surprise you as we occasionally offer an assorted mixture of free sample packs included in each order from time to time.
Commonly Asked Questions About Moonwlkr
What is Moonwlkr?
Moonwlkr Delta 8 Brand is one of the most popular companies that specializes in the production and distribution of hemp products, particularly those featuring delta 8 (d8 distillate). Their product range varies from delta 8 vapes, puffs, oils and more, all of which are legit and meet all necessary guidelines for safety and legality.
How do consumers generally find Moonwlkr products in terms of quality and effects?
According to reviewers, people love Moonwlkr Delta-8 products because they are made with attention to quality, reliability, and therapeutic benefit. Many users particularly note products made with watermelon zkittlez, Atlas, Blueberry, OG Kush, and Himalia for their unique flavors and soothing effects.
How to consume Moonwlkr products?
The consumption method for Moonwlkr products largely depends on the specific product. For instance, oil can be ingested directly or added to food or drink, while THC vapes and puffs are inhaled. Always follow the product description and label instructions for each product.
Do Moonwlkr products have third-party lab testing?
Yes, all Moonwlkr products undergo rigorous testing at ACS laboratories, a recognized testing facility in the Southeastern United States. They test for things like cannabinoid content, including D8 THC, and any possible contaminants. The Certificate of Analysis (COA) for each product can often be found on the product description page.
Are Moonwlkr Delta 8 THC products safe to consume?
Moonwlkr goes to great lengths to ensure the safety and legitimacy of its Delta 8 products. All are tested and their COAs are published, confirming that the products meet all safety and legal requirements. However, it is always advisable for consumers to consult with a healthcare provider before starting any new dietary supplements, including delta 8 products.
What are some of the most popular products that Moonwlkr Delta 8 Brand offers?
Moonwlkr Delta 8 Brand offers a wide array of products. Some of the most popular items include the 800 mg of D8 oil in four different flavors and vapes. As always, popularity can vary depending on the individual consumer's preferences and needs.
Does Moonwlkr D8 THC Brand offer any discounts or promos?
Yes, EverydayDelta.com offers various promotions and special promos, especially for new customers looking to buy Moonwlkr Delta-8 Brand. For the most accurate and up-to-date information, it's always best to subscribe to our newsletter.
What is the return policy of Moonwlkr Delta-8 THC Brand?
Moonwlkr Delta-8 Brand has a return policy, which typically involves a return request being made within a specific number of business days from the date of purchase. However, return shipping costs may need to be shouldered by the customer, unless the return is due to a product fault. Always check their specific return and refund policy for further details.
How much are the Moonwlkr Delta- 8 shipping costs?
Shipping costs for Moonwlkr Delta-8 THC products can vary depending on the destination and order size. It's always best to check their website for the most accurate and up-to-date shipping information.
EverydayDelta.com carries a large selection of Moonwlkr products and offers free shipping on all orders over $49.99.